Hose handling injuries are a 'reel' concern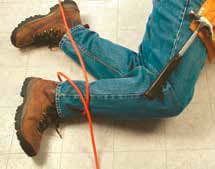 Industrial hoses are a common cause of workplace injuries and strains.
The root of the problem, more often than not, can be attributed to the non-use of a reel to safely operate and store them.
The mining sector, dockyards, engineering sites, the energy industry, construction and building sites, food manufacturing – just about any heavy industry – often sees payouts for employees hurt in activity that would not be a problem if hose reels are being used.
Mr Michael Pawson, Managing Director of ReCoila, an Australian company specialising in manufacture and supply of industrial hose reels across the industry spectrum, says the potential problems are so obvious to the trained eye and so preventable.
"The problem with industrial hoses on worksites is that management often ignores this sort of equipment, often assuming that a hose has little or no chance of leading to a workplace injury," says Mr Pawson.
"But the problem is you have a bulky item that is often a lot heavier than it looks, so people always try to move it manually and this is leading to back strains and spinal injuries, rotator cuff problems on shoulders and general arm injuries.
"The fact that hoses are often naively left dormant, snaking around the feet of workers for convenience-of-use also creates danger, and when you look at industries such as mines, quarries, docks and foundries, slips and falls can be very serious.
"The key step to solving this workplace menace is simple: the installation of hoses on appropriate reels will almost certainly eliminate the trip hazard potential."
Ergonomic injuries are minimised – and in some cases eliminated – when a hose reel is used rather than manually carting a hose around and it provides the ultimate in safe, convenient storage as well.