HOPPER TAKES THE WEIGHT OUT OF PNEUMATIC CONVEYORS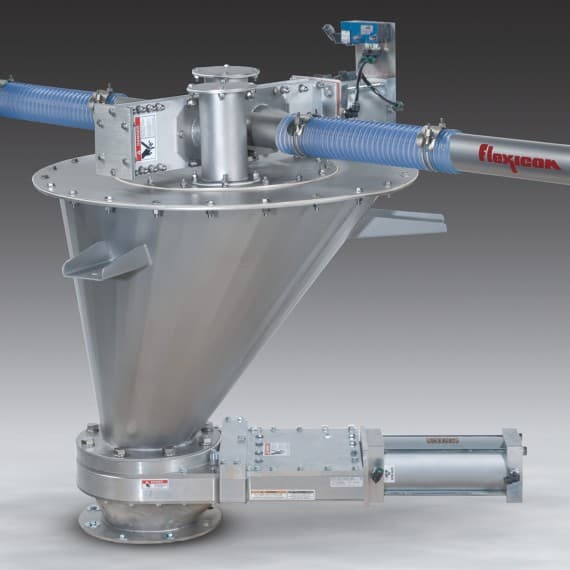 Flexicon has come up with a novel design for a weighing hopper for use in pneumatic conveying systems. Suitable for batch weighing in many chemical, mineral, plastics and food processing applications, the hopper features three small-scale load cells to measure the gain in weight of the incoming material.
Multiple hoppers can be positioned along a single pneumatic conveying line for discharging dry bulk solids into multiple processes, storage vessels or downstream use points by weight. Following the last fill/pass valve, the conveying line can be routed to the original material source point or to a dust collection device.
The system controller weighs a batch by changing the position of the valve, which diverts conveyed material into the hopper. As the hopper fills, load cells transmit the weight gain information to a PLC. Once the batch weight has been reached, the valve redirects material away from the hopper. The controller then actuates a slide gate valve to open, discharging the weighed batch.
The conical hopper has a vertical sidewall to assist the complete discharge of materials for batching accuracy. It is constructed from stainless steel finished to industrial or sanitary standards.
Flexicon Corporation (Australia)
1300 353942
www.flexicon.com.au