Honeywell launches new safety campaign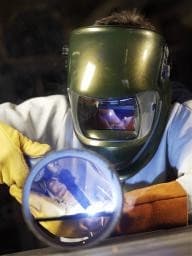 According to the International Labor Organisation (ILO), a worker dies from a work-related accident or disease somewhere in the world every 15 seconds.
That equates to 2.3 million worker fatalities each year.
And each year 160 million new cases of occupational illness are reported and another 270 million workers suffer non-fatal workplace injuries.
To curb these alarming statistics Honeywell Safety Products has launched a new campaign to encourage business to build "enduring cultures of safety" to help minimize injuries and maintain a more protective and productive workplace.
Studies have shown that an empowered safety culture can be the most cost-effective and proven accident-prevention process. 
Creating a Safety Culture does not mean adding a new set of rules.
It is a new philosophy of preventing injury in the workplace. Safety is no longer something defined and enforced by the management. Rather, it becomes the right and responsibility of each and every employee. 
When workers embrace safety standards and practice better behaviors, they can regulate their own safety much more effectively and consistently.
Honeywell's primary target audience is safety directors and industrial hygienists.
Target markets include heavy industry, automotive, manufacturing, construction, transport, utilities, fire safety, oil and gas, alternative energy, nuclear and the military.
The economic, social and legal impact of accidents makes worker safety a top priority for commercial and industrial employers around the world.
In the past, safety managers took a "post incident" approach – correcting what went wrong after an accident or illness occurred.
Companies bought safety products to comply with government regulations.
But this product-only focus is beginning to change.
At many leading companies, safety managers are now building a deeper "behaviour based" safety culture focussing on accident prevention.
This approach relies on the combination of comfort-engineered products that workers want to wear, education, teamwork, training and a safety commitment.
In other words creating an environment where workers embrace safety as a vital part of their jobs.
The key elements for establishing and supporting a sustainable culture of safety consist of the following:
Demonstrating transformational safety leadership at the managerial level
Focusing education and training on behavioral issues
Choosing safety equipment employees prefer and want to wear and use
Establishing an analytic and diagnostic infrastructure that provides essential information
Setting measurable goals and providing feedback focused on positive behavior
Appointing safety ambassadors to accelerate culture change
This culture helps prevent incidents, reduces the risk or injury and improves productivity.
The ultimate goal is to achieve zero injuries.
Under the new campaign Honeywell Safety Products will support safety managers in their quest to build sustaining cultures of safety. 
The company has more than 50 years of experience and knowledge in regulatory compliance, hazard identification, safety management and PPE selection and application.
It prides itself on proven, effective education and training programs and product innovation. 
Honeywell offers a broad portfolio of safety solutions.
This includes a wide range of stylish, comfortable, and high-performance PPE equipment as well as innovative technologies to improve the work environment. 
According to Honeywell, a Culture of Safety exists when safety is everyone's priority and workers make safe choices on their own.
And Honeywell believes it is uniquely positioned to help Australian safety managers build such a culture.