HOLDEN RECORDS ITS FIRST PROFIT SINCE 2011
11-05-2016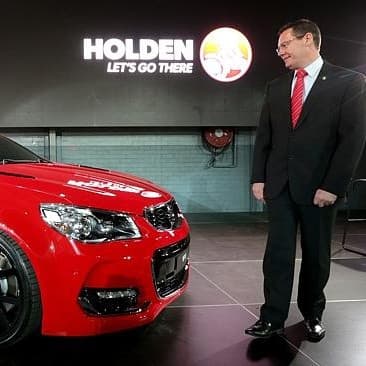 Holden chairman Mark Bernhard with the last Commodore model to be built in Australia, the VFII
Holden has posted its first profit in five years – despite sales hitting a 22-year low.
The company announced an after-tax profit of $128.2 million in 2015 largely through the sale of imported vehicles.
Demand for imported cars overtook Australian-made Holdens for the first time since the company was founded in 1948.
The profit comes as Holden prepares to close its Port Melbourne engine plant later this year and shut its car assembly line in Elizabeth, South Australia at the end of next year.
The company has lost more than $1.54 billion over the previous 10 years — despite receiving $2.3 billion in state and federal government assistance over that period.
Holden still received $70.3 million in taxpayer dollars last year to go towards the continuation of locally-made cars until the end of 2017.
Holden's financial turnaround occurred despite posting the lowest revenue in at least two decades.
Holden's total revenue of $3.59 billion for 2015 was down from $3.62 billion in 2014 and $4.05 billion in 2013.
"We recorded significant charges, and therefore losses, in 2013 and 2014 due to asset impairments and employee entitlements," said Holden chairman Mark Bernhard. "This is the cost of looking after our people and ensuring an orderly wind-down, and that remains our unwavering commitment."
But the company had completed its asset writedowns and the vehicle import side of the business was profitable to the tune of $55m last year.
"We acknowledge that some financial one-off items, such as the decision to retain our powertrain engineering department, positively impacted our profit numbers, but the bottom line is that Holden is profitable as a fully-fledged importer of vehicles and we have a very bright future."
Mr Bernhard said local production of the Commodore and Cruze remained a drag on the business, losing $85m last year despite $70m in government assistance. "Our manufacturing arm continues to face the insurmountable economic challenges that led to the industry-wide decision to cease local manufacturing," he said.
Holden built just 56,786 vehicles last year, down from 64,431 in 2014, with Commodore demand down 8 per cent to an all-time low.
Sales of imports rose by 3169 vehicles to almost 55,000 but that was not enough to halt a further decline in overall sales, which fell 3 per cent to 102,951.
Holden's market share dropped to 8.9 per cent.