HOLDEN MANUFACTURING CLOSURE THE 'RIGHT THING FOR AUSTRALIA'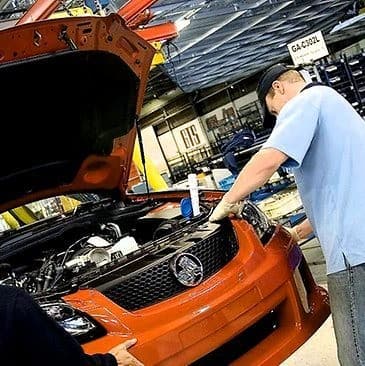 General Motors Holden decision to cease car manufacturing in Australia was the "right call," says a leading automotive executive.
Stefan Jacoby, General Motors head of international operations, said the decision is the "best thing for Australia."
Mr Jacoby made the announcement 12 months ago that Holden would close its car manufacturing facilities in Elizabeth, South Australia, and engine plant at Port Melbourne, Victoria by 2017.
The decision was based on the lack of protection for the industry, free trade agreements, a lack of scale from the factory and declining local content in the cars themselves.
"You have identified me as the one who made the call to step out of manufacturing, yes, I am the guy who made finally this decision and presented this to the board and it was an executive team decision and a board decision," Mr Jacoby told Car Advice.
"But I am of the strong opinion that this was the right thing for Australia, and this was the best thing for Holden."
Of the market conditions surrounding the closure, the international operations boss said: "The Australian economy (is) stepping back more or less from manufacturing, in not just the automotive sector but other sectors, focusing on service, focusing on mining, focusing on agriculture, great wine and good export products of agriculture and fishing and meat and so on.
"Part of that environment change is that Australia entered global FTAs (Free Trade Agreements) so from that point of view local manufacturing had not been as protected as in the past."
FTAs with other countries have often been created by the federal government without the automative sector in mind; in Thailand, for example, cars can be imported to Australia free of duty, but going the other way our local cars are heavily taxed if they have an engine larger than 2.0-litres – which all but the entry-level Holden Cruze do.
Jacoby also cites the need to amortise higher production costs across larger volumes as key for manufacturing survival, and this was something the Elizabeth plant could not achieve.
"The industry is living from scales," he continues.
"And to maintain an industry which is in total a bit more than a million [new car sales], and we have 10 per cent market share, and the Commodore of that is maybe 20 to 30 per cent of that. So that's (along with Cruze) a total volume of about 50,000 to 60,000 vehicles – you cannot just justify any local manufacturing.
"It is too complex, it doesn't generate these competitive scales, and it is from a logistical point of view simply not feasible."
Regardless of this, however, the German-born executive believes that even with government incentives, local manufacturing would not be viable.
"Incentives and protection doesn't justify local manufacturing," Mr Jacoby said.