Hirschmann leads way in industrial wireless
31-08-2010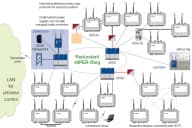 System Overview: Hirschmann Distributed Wireless Network
Wireless LAN (WLAN) technology based on IEEE 802.11 standards are starting to gain wider acceptance in industrial installations.
This is due mainly to its open standards, interoperability, and ability to carry larger amounts of data when compared to traditional serial based radios.  
Hirschmann WLAN technology, from Belden, offers a wide range of WLAN products from radios to antennas.  
Their radios are available in IP40 or IP67 protection ratings, and offer the latest 802.11n WLAN standard.  
With options for different antenna offerings, including the Multiple In Multiple Out (MIMO) antennas, they deliver a robust and reliable WLAN network in Industrial environments where noise and reflections can pose challenges.
For large WLAN rollouts, a WLAN controller is available to easily manage the installation, setup, and maintenance.
Working with one of the world's leading oil companies, Belden successfully applied Hirschmann WLAN technology to develop a tailor-made, secure and reliable plant-wide wireless process control system.
Shell Eastern Petroleum Ltd (SEPL) has recently completed its Ethylene Cracker Complex (ECC) as part of its "Houdini" project on the island of Pulau Bukom, Singapore. 
The full project included modifications and additions to the existing Bukom refinery.  One of the key features of the project is that this is a deployment in an Oil & Gas environment, where wireless technology is being used to get secure mobile access to Process Control systems. 
Shell wanted to get mobile access to all process data via WLAN at defined places in the refinery to drive efficiencies.  
Significant benefits include improved overall efficiency, resulting from both the faster commissioning time for the petrochemical process control system and improved maintenance efficiency, as well as an overall system cost reduction – due to fewer local panel units being needed.
Working closely with the main automation contractor Yokogawa, the Belden team took on the project management, the design and building of a complete WLAN solution, consisting of a wireless distribution system incorporating 90 Hirschmann BAT54-F X2 access points for ECC and multiple antennas, linked across a redundant, fiber ring backbone.
Mr Tsjoi Tsim, Consultant Wireless Technologies, acting on behalf of Shell Global Solutions International said: "Belden, was capable of delivering the right solution by successfully listening to what the customer has to say and to act accordingly to it."
Belden
Ph: 1800 500 775