Materials Handling & Equipment
HIRE SPECIALIST INNOVATES WITH THE BRANCH OF THE FUTURE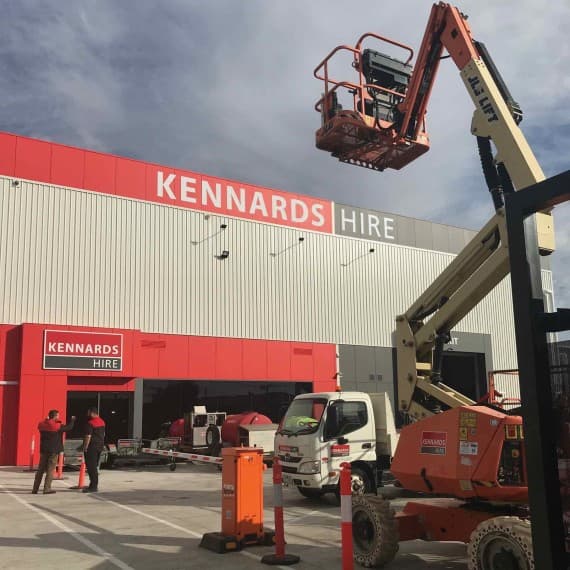 Victoria is bustling with construction, from large scale projects in the city and booming residential developments in outlying areas to the active home improvement trend (partly fuelled by the TV program The Block, which is being filmed in St Kilda).
Naturally, demand from construction companies, builders, tradies, homeowners and DIYers for industry equipment and hire tools has been driving the expansion of Kennards Hire branches across the state.
This has led to a steady increase in the number of branches, with the latest openings of the first Branch of the Future prototype at a brand new site in Airport West and a hybrid branch in Port Melbourne bringing the total to 29.
Kennards Hire, long established as one of the largest family-owned hire equipment providers in the southern hemisphere, has always taken customer demand as a guide to opening new sites and providing the right equipment in the right locations.
"Bringing the right equipment closer to our customers and being able to provide a wider range of tools, be it for our trades and DIYers or industry partners, is important to us," Kennards Hire Victoria General Manager Lance Hawes says. "We really do stand behind our promise to make our customer's job easy."
"With nearly 30 branches right across Victoria and meeting demand where it is strongest, we feel we are achieving exactly what we set out to do."
The first Branch of the Future prototype, located on a 2500m2, purpose-built site at Airport West, has already grabbed the attention of customers. The new site has plenty of room to implement and install innovative future technologies. Its unique features include a 12m high vertical storage machine with a storage capacity of 122m2 of equipment, new modular plant rooms and return area – just some of the points of difference this site is using as it initiates future best-practice service delivery.
The more industry-focused Lift & Shift branch has moved from Abbotsford to Port Melbourne and now shares a brand new site with the former South Melbourne branch. The Port Melbourne site stretches over 3200m2 and has great access to major arterials, making it an easy option for customers when heading into or out of the CBD or surrounding areas.
With Lift & Shift moving to Port Melbourne, the Abbotsford site is now home to a general hire branch, carrying an impressive range of tools such as demolition hammers, concrete saws, excavators and scissor lifts. Abbotsford is difficult to navigate during peak hour, so Kennards Hire has increased its presence in the area, adding a huge level of convenience for customers working nearby. The introduction of general hire products in Abbotsford increases Kennards Hire's inner city footprint to an impressive five branches.
Kennards Hire now also has a dedicated Site Solutions business in Thomastown. This unit specialises in site equipment such as site sheds and offices, portable security cameras, dust monitoring, generators, fuel cells, toilets, ablution blocks, fencing, ground mats and trench shoring, and also offers services such as site setup, along with automated waste removal and refuelling. Having seen rapid growth over the past 12 months, this new subsidiary business unit is set for further expansion.
Technology and efficiency naturally play a big part in remaining at the forefront of any industry, and equipment hire is no different.
"We're always looking beyond our current branch network model for ways that we can be innovative while holding our customer's experience at its core," Hawes says. "Our expansion in Melbourne and the introduction of hybrid branches stand testament to this.
"We're a business that takes pride in delivering new ways of making our customer's job easy. Not only with providing extensive range of products, but by opening up new branches that make accessibility to our products and service offering easier."
Kennards Hire
135 135
www.kennards.com.au