HIPAGES APP MAKES LIFE EASIER FOR YOU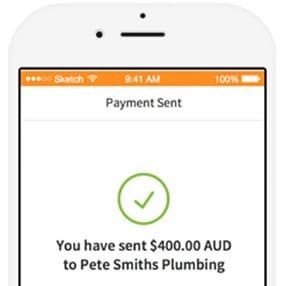 Imagine having to run to the bank and pull out $86.6 billion in cash every year: that's what we, as a nation, are doing to pay for home improvement. Why?
Tradies are simple people, and they don't appreciate the hassle of conventional payment technology: two thirds simply don't use the cumbersome, expensive equipment needed to accept credit card payments.
The home improvement industry is a $130 billion industry: so if two thirds of tradies don't take card, that's $86.6 billion dollars of inconvenience. Hipages has set out to save the nation some time, and fix a few other habitual annoyances along the way.
Up until now, hipages' app and site have only been the easiest ways to find, hire, and rate the right tradie for any job you need done: no big deal. Now, they're also the easiest way to communicate with, and pay, the tradie you need.
Hipages's app now lets you pay for your service in a single tap: powered by another Australian innovator, PromisePay, any credit card can be integrated into your hipages account in seconds.
The app also allows you to use a WattsApp-style instant messenger to talk to your tradie, and get quotes based upon pictures and descriptions without the need for a site visit.
"We're always looking for new ways to make home improvement better for both tradespeople and customers," said David Vitek, cofounder and CEO of hipages. 
"This is just the beginning. We see a world where you can easily pay deposits in escrow, schedule monthly payments to the gardener, apply for loans, and more, all with just the tap of a finger."
Hipages
Web: www.hipages.com.au