HILTI CLEANS UP AT KENNARDS HIRE SUPPLIER AWARDS NIGHT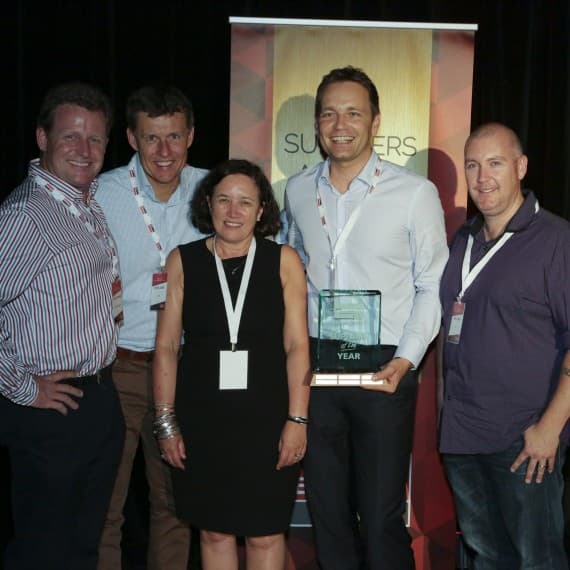 About 130 suppliers attended the 2015 Supplier Award Night hosted by Kennards Hire Artarmon branch in Sydney last month.
The event was a way for the Kennards Hire team to thank and reward their suppliers for the hard work and commitment they have shown throughout 2015.
Also in attendance were key members of the Kennards Hire family including Angus Kennard, Rory Kennard, Cam Kennard, and Andy Kennard.
Bronze, Silver and Gold Awards were presented to the highest rated suppliers based on a survey that was completed by Kennards Hire Staff from over 150 branches across Australia and New Zealand.
There were six different categories of awards, four of which align with Kennards Hire's core values: Fair Dinkum, Every Customer A Raving Fan, Taking Hire Higher, and One Family.
There were two other awards for Customer Service and Supplier Of The Year.
And two suppliers stood out above the rest.
Trade Tool and equipment company, Hilti won five awards, including the Supplier of The Year.
N&D Mechanical took out three awards, including the Gold Medal in the Every Customer A Raving Fan category.
Recently appointed CEO of Kennards Hire, Liz Ward said: "We owe a great deal of gratitude to every single person who attended the event.
"Kennards Hire wouldn't be the successful brand that it is today, without the support and loyalty of all of our suppliers, some of which Kennards Hire have been partnering with for up to 50 years."
Award Winners
Fair Dinkum
1.         JLG
2.         N&D Mechanical
3.         Hilti
Every Customer a Raving Fan
1.         N& D Mechanical
2.         JLG
3.         Cable Winches Australia
Taking Hirer Higher
1.         Makinex
2.         Hilti
3.         Specialised Force
One Family
1.         Hilti
2.         N&D Mechanical
3.         Makinex
Customer Service Award Winner
Daniel Stevens – Ad Trans Hino
Supplier of the Year 2015
Hilti