HIGHEST-GRADE GRAPHITE GREENLIT FOR MULTI-MILLION MINING
08-06-2016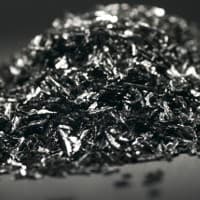 Graphite flakes can range from 100μm to 1mm in size.
Forget iron, graphite's where the money is: a 300 hectare zone in Kookaburra Gully has been leased out for a 21-year project, and the projected outputs are huge.
The leaser, Lincoln Minerals, is aiming to extract 40,000 tonnes per annum of high-grade graphite flake concentrate from the mine.
Medium to large flake sells for about twice the amount of regular graphite, or at least $1,300 per tonne. (so $52,000,000 p.a).
Kookaburra Gully has flakes of 350-500 micrometres in size (larger being more useful and thus more expensive).
Graphite has seen a surge in price over the last couple of years, mostly due to an increased demand from applications such as lithium-ion batteries, green energy, and graphene production.
The lease comes as a proposal to construct a solar thermal power station in Port Augusta is being considered.
Being just 250km north of Kookaburra Gully, it is likely that the power station (which would require a minimum of 17,000 tonnes of graphite) would source from Lincoln Minerals.