HIGHEST-END HI-FI HITS SYDNEY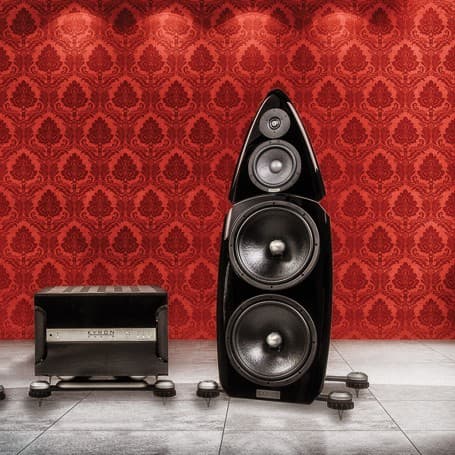 A luxury home audio company will display its world-leading Kronos loudspeaker system in Sydney for the first time this weekend at the 2017 Australian Audio & AV Show.
Kyron Audio last year relocated from Melbourne to Adelaide where it has set up a studio on the back of strong showings at major hi-fi events in Europe and the United States.
The company's extreme high-fidelity dipole loudspeaker systems combine analogue and digital technology to create a true sound through boxless speakers.
Kyron co-founders Lee Gray and Leon Suter are former Air Force musicians who first discussed making speakers together on a Hercules flight in 2001.
They designed high-end bespoke systems for a couple of years before embarking on their goal of building the world's best loudspeaker.
Suter, a clarinetist and sound engineer, said the all-in-one systems (except for the source) allowed people "to reconnect with music and stop worrying about the tech".
"As far as I know we are the only ones who are applying analogue technology and DSP digital technology in combination to perfect the way that the sound radiates out of the loudspeaker without a box," he said.
"We have this exceptional clarity and speed of the bass. A box speaker basically gives you an effect – it's unrealistic – it's not what's on the record.
"Not only does the bass sound distorted but it basically carries along the whole frequency chain, it stuffs up your highs, the vocals become muddier and you lose clarity. What we've done is cleaned up the bass and it has this extreme speed and attack and it just gets out of the way and it opens up the vocal, you have depth, you have height, you have width and you have believability."
Kyron Audio has won several Australian awards including the 2014 Sydney Design Awards and Sound + Image Magazine 2015 Best Loudspeaker over $20,000.
"We spent about eight years building our first flagship, the Gaia, which sells for $249,000. We launched that in 2011 at the Australian Hi-fi Show - no one knew who we were and we walked away with best sound in Australia two years running," Suter said.
Kyron Audio released its $121,000 Kronos dipolar system in late 2014, which is designed to fit into a more standard living space.
"The system in our suite (in Sydney) will have a combined value of around quarter of a million dollars," Suter said.
"The show will give people an opportunity to experience music like they have never heard it before.
"We love seeing the reaction people have when hearing Kyron for the first time."
The Kyron Audio listening suite can be found at Boardroom 2, on the 2nd floor of the Intercontinental Hotel during the show and is a must visit experience for any music lover.
The all-in-one Kronos system created a strong impression on debut at THE Show Newport in California in 2015 and also exhibited at High End Munich.
The clarity of the sound of the Kronos is incredible. It is an amazingly realistic sound reproduction that gives the listener a live music experience as if they were just metres from the stage. Everything from the vocalist's breathing to the squeak of the fingers on the guitar fret board are reproduced with stunning realism.
The company will release a $300,000 Phoenix model later this year and is also looking to develop a system at about the $60,000 mark.
"We love music and Kyron exists for other people who love music. If people make music a real priority in their life then this is something that will interest them," Suter said.