HIGHER LEVEL OF CONTROL FOR PANASONIC FP0R
18-05-2016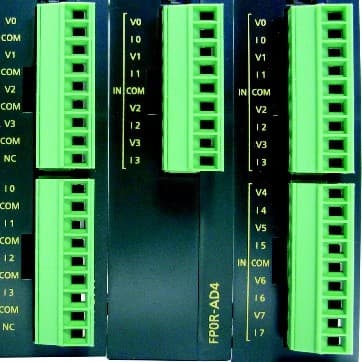 The new Panasonic FP0R analogue expansion units offer improved performance, extended functions and a higher resolution for improved control in your plant and machine applications.
There are now five analogue units available in the range, two dedicated input units, one dedicated output unit and two combination input/output units.
All units are capable of being set as either 12-bit resolution for compatibility with existing applications, or as 14-bit resolution, giving an accuracy of 1/16,000 count across the selected range, thus allowing for better, more accurate, control of your analogue systems.
There are five selectable voltage and current input ranges and six selectable voltage and current output ranges. In 12-bit compatibility mode, the range is selectable as a group, via the DIP switch on the front of the unit. However, when running in 14-bit mode, each input or output range is independently selectable within the user program.
All of the new FP0R Analogue units are compatible with FP0R, FPΣ, and FP-X model Programmable Logic Controllers.
Panasonic FP0R analogue expansion units are proudly distributed by Control Logic.
Control Logic
Ph: 1800 557 705