HIGH-VOLTAGE DIGITAL-TO-ANALOGUE CONVERTORS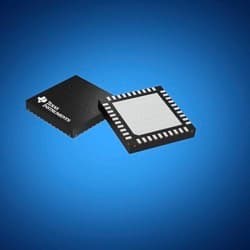 Mouser Electronics stocks the DACx1416 series of digital-to-analogue convertors (DACs) from Texas Instruments, a pin-compatible family of 16-channel, buffered, high-voltage-output DACs with 16, 14 or 12bit resolution. They address the specific requirements of all Mach-Zehnder modulator technologies and biasing topologies, making them suitable for optical networking applications, as well as industrial automation and test and measurement systems.
The converters provide a holistic and highly optimised solution that requires minimal external components. They include a low-drift 2.5V internal reference, eliminating the need for an external precision reference in most applications. A user-selectable output configuration enables full-scale bipolar output voltages of ±2.5 to ±20V and full-scale unipolar output voltages from 5 to 40V, with independently programmable output range for each channel.
The integrated DAC output buffers can sink or source up to 25mA, which limits the need for additional operational amplifiers, and each pair of channels can be configured to provide a differential output with offset calibration. The monotonic DACs provide high linearity of ±1LSB integral nonlinearity and feature three dedicated A-B toggle pins that enable dither signal generation with up to three possible frequencies.
Mouser also offers Texas Instruments' DAC81416EVM evaluation module, which connects to a computer via Texas's USB2ANY interface adapter, enabling designers to access the onboard DAC81416 device's SPI programming interface through a graphical user interface.
Mouser Electronics
+852 3756 4700
au.mouser.com