HIGH-TECH CONTROL PANEL BOOSTS COMPRESSOR EFFICIENCY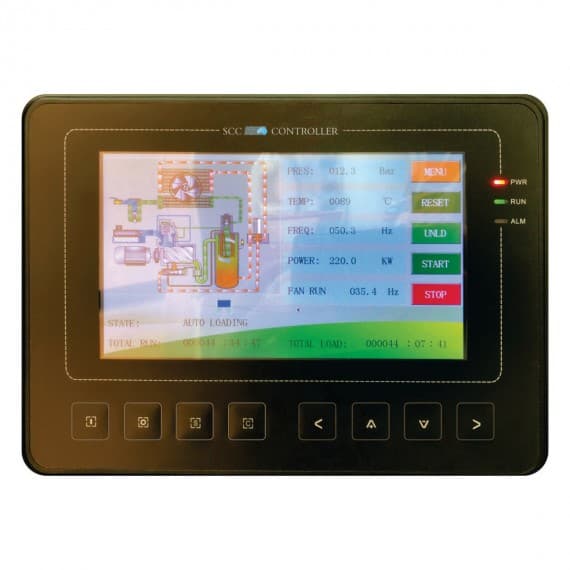 Southern Cross Compressors has developed a novel high-tech touchscreen control panel for its industrial screw compressor models over 18kW. The new controller provides users with increased levels of information and ensures the compressors operate at the highest efficiency in the most economical operating mode.
"This new controller technology provides the highest level of protection to all key machine functions and components, ensuring longevity and reliability," says Southern Cross National Service Manager Shane O'Brien. "Most importantly however, this controller encompasses the ability to optimise machine efficiency and can be readily adapted to suit customer's individual requirements."
All key machine information can be accessed through an onboard interface that makes it easy for users to remotely monitor the key operating parameters of the machine, including pressure, temperature, power and service running hours.
The new controller has a novel "block mode" function that allows a single compressor to control up to 16 additional compressors enabling them to work together in order to conserve energy. The number one compressor operates as the master with the other compressors used as required to maintain system pressure and to ensure that the minimum number of machines are running at any given time.
The integrated PLC intelligently manages both safety and control elements of the air compressor package to provide reliable and efficient air.
With up to 52 different inputs and outputs the touch controller monitors critical data such as pressure, temperature and power to ensure that both user and manufacturer settings are maintained. And the Modbus II interface provides access to critical control functions for SCADA and remote management systems.
With inbuilt functions such as remote stop/start, remote load/unload, time clock stop and start and time clock pressure changes, this technically advanced but simple controller delivers the flexibility and reliability demanded by industry.
Southern Cross Compressors (Australia)
1300 098 901
www.southerncrossaircompressors.com.au