Product News, Automation, Materials handling
Published 29-06-2021
| Article appears in August 2021 Issue
High-speed, Sydney-manufactured machines seal in the goodness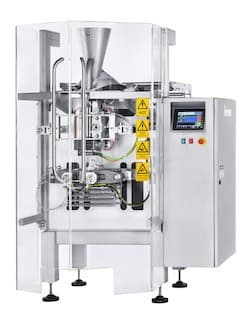 Fresh food producers are giving their products a longer shelf life with the help of Sydney-made Propac VFFS machines, which make an airtight seal. 
Propac Industrial's US-type Ultrasonic Vertical Form Filler – series AV-2.2-CB-US – makes use of the world leader in ultrasonic technology, Hermann in Germany, for jaws and ultrasonic components.
Propac Industrial and HMPS pride themselves on delivering quality machinery for the food and beverage industry. Speaking on behalf of Propac, Craig Lindsell says that many companies are looking to automation to help ramp up their production. 
"A vertical form fill seal machine (VFFS) is a fairly affordable and easy step to automation and will make a big difference to the overall output of an agribusiness. It will help them to become more competitive and produce at a faster rate while increasing quality and reducing waste," he said.
Craig says that Propac recommends continuous motion machines (US-type Ultrasonic). 
"These machines utilised the same footprint as a slower intermittent motion heat jaw machine, whilst running at faster speeds – sometimes double the output. The ultrasonic technology seals despite a possible fresh product particle getting in the way, which means the waste reduction is enormous."
He adds: "These machines are suitable for applications in which seal laminate type films are used, such as retail salads and shredded cheese."
Craig explains that one of the key benefits of the upgrade is undoubtedly the reduced food wastage. 
"We were privy to wastage in the past when jaws misaligned, and gas could escape during the sealing process. A VFFS machine used to seal the bags will make sure a product looks more professional, is easier to open and offers gas flushing for a higher quality, long lasting product," he concludes. 
Propac Industrial and HMPS will be exhibiting at foodpro in October.