Published 29-10-2020
| Article appears in October 2020 Issue
High safety and reliable wheels and castors: key client's verdict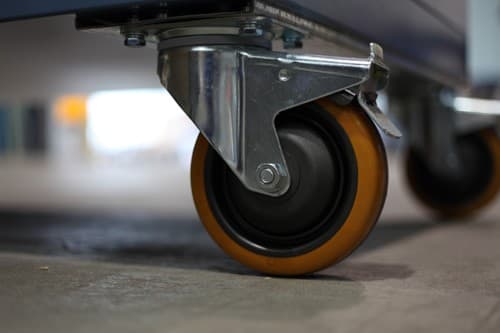 It goes without saying that the key to a company achieving high product satisfaction is about having a successful partnership with key suppliers. And this has been the kind of relationship that Wilson & Gilkes has had with its supplier of castors and wheels, Tente.
Wilson & Gilkes is an Australian manufacturer which opened its doors in November 1945, just after the end of World War II and three years before the first Australian Holden rolled off the production line.
A proud Australian company, Wilson & Gilkes strives for innovative design, engineering, and state-of-the-art manufacturing in all of its product output.
 Its specialty is in the design and manufacture of storage products for the Audio Visual, Education, Corporate, IT and Manufacturing industries.
Wilson & Gilkes says Australians still recognise the benefits of high-quality locally-manufactured products as Australian consumers are pragmatic in nature,  and want the kind of products that  stand the test of time.
Wilson & Gilkes Design Manager Humberto Mesa, based at the company's Moorebank NSW headquarters, believes simple, yet functional design is necessary to meet the basic requirements of customers.
Mr Mesa says this form of design allows Wilson & Gilkes products to meet the needs of a competitive market when dealing with overseas influences.
"So in terms of design principles it is important for us as a company that we deliver quality products that last and serve our customers well and that we have the ability to design freely, according to Australian needs."
Mr Mesa brought his years of previous experience in the sheet metal industry and commercial and industrial storage systems, into Wilson & Gilkes, working as the company's Design Manager for a number of years.
"I've been with Wilson & Gilkes for a little over six years now. I came over when Wilson & Gilkes acquired a company I used to work for and they brought me over as an industrial designer."
His skills at that point, were in 3D CAD applications like solid works, although he also had experience in the sheet metal industry.
Mr Mesa says Wilson & Gilkes has developed the capacity to cover many products – from storage cabinets, industrial storage, also mobile touch-screen (or AV) stands and products like whiteboards and lecterns for education and brands in data storage, such as server racks, server cabinets and enclosures.
The company relies on Tente castors and wheels for its heavy duty requirements, as well as other applications.
The Wilson and Gilke's Boscotek range is a good example.
"Some of the requirements in our industrial storage range can be pretty high. You are talking about cabinets that may weigh an excess of 500kg," he says.
The Boscotek Flight Line Cabinets are what Wilson and Gilke's offer as an ideal solution to organised mass mobile tool storage. The cabinets are a feature within the aviation industry.
The heavy duty cabinets are used for large volumes of precision tools and instruments, which may be required to be stored together, and in a dust resistant environment.
They also are used by the military and automotive industries as a flexible approach to tool storage.
" The heavy-duty Tente castors have served it very well. They are high quality with a very high load rating and that's been a great product for these cabinets," Mr Mesa says.
He finds Tente's safety and reliability as a breath of fresh air. The Boscotek Flight Line cabinets feature castors that are heavy duty, large in diameter and feature total braking for improved mobility.
 Mr Mesa says that the strength and durability of the Tente Alpha castors highly complement the many high quality features of the Boscotek Flight Line cabinet range – a modern appearance and counter-balanced door, polycarbonate/aluminum roller shutter that provides clearer vision of tools and instruments being stored.
He also points out that when designing Wilson & Gilkes products, reliable mobility is an important consideration.
"In design, you have to think that castors are very high consideration as they keep your device safe reliably while being mobile.
"For example, say you have an AV stand or a touch screen stand in a school environment that might be moved constantly across the quadrangle, the park, the bitumen if you like, or the paths from classroom to classroom or hall to hall. The castors are usually the items that suffer the most wear and tear."
For Wilson & Gilkes' Gilkon FP7 v3 automated heavy duty mobile mount for single monitors, the lockable heavy duty Levina castors under it, from TENTE, have helped all the way.
The sturdy and robust mount that can be easily raised to heights of up to 1995mm holds most screens from 42" to 86" in measurement. The maximum weight capacity holds up to 120 kg and, using Tente's lockable Levina castors, it does the job quite reliably. 
Mr Mesa says like in any business and product manufacture cycle, every project is different and there may be challenges at times.
"Sometimes there may be challenges in, for example, how to fit a particular castor to a certain frame or base. Our Tente representative will not hesitate to come to our headquarters to show samples or offer potential solutions to the challenges," he said.
"We might show or discuss a design solution using the Tente catalogue. Or it can be as basic as Wilson & Gilkes needs to meet a certain requirement, and it will be this heavy and needs to be loaded within a frame of a certain weight.
"Tente has a very extensive line of products and wide capacity for its castors' performance and I find its catalogue and website quite intuitive. The best thing about Tente is that it has a vast range of everything, from tiny or small pedestal or chair castors and plastic castors, through to the heavy industrial castors and wheel solutions, which always in the end provides solutions for us.
"You can also use its wheels for various different applications.  You can usually find something within its range that's going to meet our requirements."
Mr Mesa comes back to the strong client and business relationship Wilson & Gilkes has had with Tente and its products as the key for any project challenge solutions.
"I guess dealing with good people that are going to serve your requirements and happy to talk to you and come in and see you, makes a big difference. It's really good to work with a company like that," he said.
Mr Mesa says that the most important contribution has been Tente's willingness to serve Wilson & Gilkes' high and sometimes demanding requirements in terms of delivery. 
"Tente is always striving to get us what we need in a timely fashion. We've got complete confidence in the Tente product. We've got confidence that if we put a Tente castor in our products it will do the job correctly and for the foreseeable life of the product."
Tente Castors and Wheels -www.tente.com.au  1300 836 831
Wilson & Gilkes - https://www.wilsongilkes.com.au/