High quality spacer bolts from Tarapath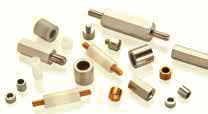 Tarapath's range of high quality spacer bolts and clearance spacers are a popular choice by Australian companies.
They can be used in a wide range of applications in industries ranging from mining, medical engineering, automotive, mechanical engineering and electronics assembly.
The diverse range of available products ensures you can find a suitable solution.
Be it nickel plated brass, stainless steel, nylon or high temperature polycarbonate, Tarapath can meet your requirements from a standard range, or provide custom made parts economically.
Threaded spacer sizes generally range from M2 through to M8, with lengths ranging from 5 to 100mm, where clearance spacers start as small as 2mm.
Tarapath also offers an assortment of clever PCB spacer options and can provide a quotation from 100 pieces through to a million.
Tarapath Pty Ltd
Ph: (03) 9269 6200