High quality, economical isolators from NHP
31-08-2010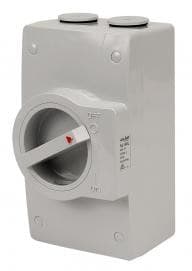 NHP has released a new range of N-Line quality isolating switches. 
Available in 10A, 20A & 40A for both single and three phase applications, the N-Line Isolators are ideal for the HVAC and mechanical services industries. 
The new N-Line isolators are a cost-effective solution to any application, including reverse cycle air conditioning, pool/spa pumps, outdoor lighting and more.
Features include: 
Large isolator handle for easy operation
Lockable switch in the off position; Knock out to lock in the on position with devices up to 10mm
RAL 7035 UV resistant polycarbonate
IP 66 protection
Stainless cover screws standard
2 pole switch mechanism standard on for single phase models 20 A & 40 A
Generic mounting and entries
2 x 25-20 mm reducers included
NHP Electrical Engineering Pty Ltd
Ph: 03 9429 2999