HIGH QUALITY CABLE CARRIER OPTIONS FROM KABELSCHLEPP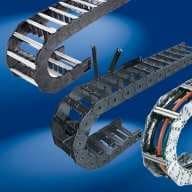 No matter what your application you can count on KabelSchlepp to have a cable and hose carrier solution to meet your requirements. 
Tsubaki KabelSchlepp offers a wide array of cable carriers, all designed to reduce the wear and stress on the cables and hoses they carry, preventing them from tangling, and improving
operator safety.
These cable carriers are used in applications from machine tools and conveyors to robotics and mining equipment - in any moving automation that involves the transfer of energy, data, liquids or gases.
From lightweight micro-sized mono cable carriers up to large super-duty steel chain designs, KabelSchlepp has the perfect solution for any application. 
Available now from Tsubaki Australia, the comprehensive range also includes carriers with 3D movement for multi-axis robotic applications and tube types for superior protection from chips and debris. 
Made in Germany for over 60 years and with proven technology used worldwide, customers can be assured of the highest quality and reliability when selecting KabelSchlepp cable carriers. 
Also, the KabelSchlepp Online Engineer configuration tool can help you to quickly select and configure the optimal KabelSchlepp cable carrier system for your application. 
Other helpful design assistance includes application photo and video galleries along with 2D and 3D CAD drawings to save valuable time.
Tsubaki Australia Pty Limited
Ph: 02 9704 2500