HIGH QUALITY CABLE CARRIER OPTIONS AVAILABLE FROM TSUBAKI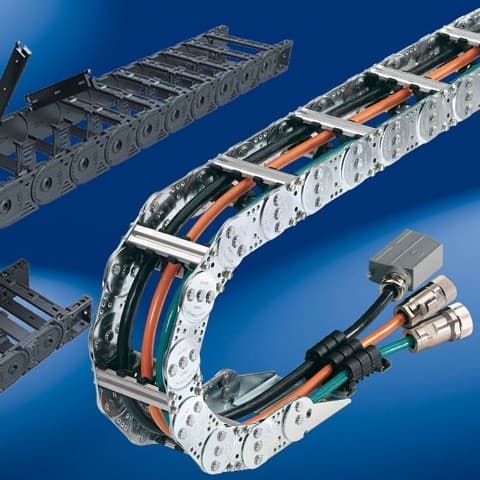 When in need of some reliable hose carrier solution, Tsubaki have got you covered, with the introduction of their Tsubaki KabelSchlepp.
Made in Germany with 50 years of experience and customers worldwide, the KabelSchlepp cable carriers range from a light-weight micro-sized mono cable carriers up to large steel chain designs, and are available in steel, and a combination hybrid.
The applications for the cable range from standard applications such as machine tools, crane and car wash systems, to more complex processes like drill rigs, industrial robots, offshore oil rigs and aerospace.
The cables have been designed in order to last; their unique build gives them both strength and reliability at low costs, even in longer and more strenuous tasks.
The chains are available for Tsubaki in various widths and cables can be cut to your specific requirements thanks to the Tsubaki technical workshop assembly and cutting capacity.
They also feature a comprehensive range that includes carriers with 3D movement for multi-axis robotic applications.
With the KabelSchleep Online Engineer configuration tools, you can quickly and effectively select and configure the best KabelSchlepp cable carrier system for you.

Tsubaki Australia Pty Limited
02 9704 2500
tsubaki.com.au