HIGH-PRESSURE PISTON PUMPS PROVIDE PREMIUM PERFORMANCE
12-12-2016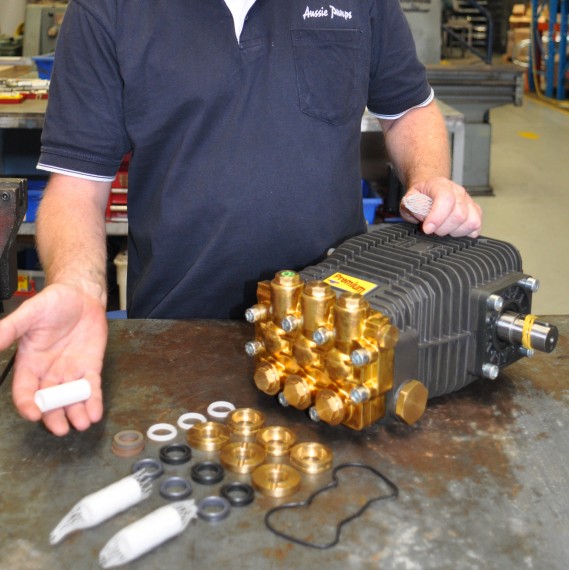 Australian Pump Industries has a new series of premium high-pressure triplex pumps made by Bertolini Pumps from Northern Italy. Designed for severe-service applications from pressure cleaning to industrial processing, the heavy-duty pumps incorporate novel design features and range from 250 to 500bar (3625 to 7300psi).
The Bertolini R Premium series pumps combine forged brass heads that offer virtually unlimited operating life with oversized forged steel crankshafts that reduce friction on the rods on the shaft and improve internal component cooling.  The plunger rods are made from Tenifer treated stainless steel, the hardening process providing superior surface strength and reducing wear.
Bertolini has incorporated a novel design for the valve cap incorporating a bottom sealing O-ring to prevent water leaks and extend life. And while similar pumps might use ceramic-coated pistons, the Bertolini R Premium series uses 99.5% aluminium ceramic plungers as standard.
As another novel design feature, the suction manifold inlet is an integral part of the die-cast aluminium crankcase.  As a result, cool low-pressure water is drawn through the pump body, cooling all the components within the pump. This also benefits the backflow pressure seals as they always stay "wetted".
Bertolini uses bronze con-rods in matched two-piece pairs that are designed to distribute heavier loads with minimum fatigue and wear. Self-lubricating double-V packings feature a liquid recycling area to ensure seals stay wet, extending life and preventing overheating.
Prices are highly competitive.  Aussie Pumps operates a service exchange programme to replace other brand pumps that have suffered premature failures.
Australian Pump Industries
02 8865 3500
www.aussiepumps.com.au