HIGH-PRESSURE COMPRESSORS TARGET AUSTRALIAN INDUSTRY
15-02-2017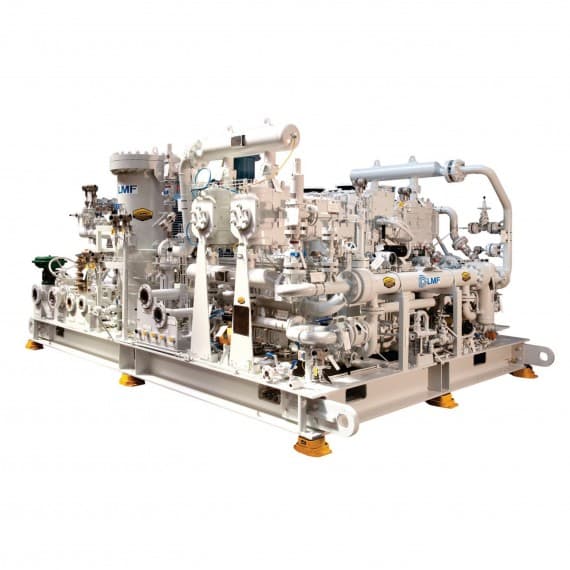 The recent acquisition of Austrian company LMF Compressors by Kaishan Group means that that state-of-the-art high-pressure compressor systems for air, natural and process gases can now be sourced directly through Southern Cross Compressors Australia.
This recent integration with LMF Compressors has greatly expanded the local company's capabilities in the supply of large-scale high-pressure compressed air systems for Australian industries including oil, gas and mining applications.
LMF is well known as a global leader in custom-designed and off-the-shelf, high-quality, high-pressure compressed air systems up to 8000hp with discharge pressures up to 700bar (10150psi) for air, natural gas and process gases. With over 166 years of experience, LMF has designed, built, installed and serviced systems in large-scale industries all over the world.
LMF's unique high-pressure technology brings a highly advanced, custom designed and built range of industrial air compressors for applications in petrochemicals and refineries, seismic research, gas transportation, storage and power, pipeline evacuation, industrial gases, PET for bottle production, biomethane and natural gas vehicles.
Fully trained and operational in LMF technologies and capabilities, Southern Cross can now provide advice, custom design, engineering expertise, supply, testing, start up and full servicing for major Australian industry applications.
As one of Australia's leading suppliers of compressed air systems, Southern Cross has the local market knowledge, manpower and mobile service technicians to impart this unique technology direct to Australian industry. Southern Cross service technicians have been fully trained in the installation and servicing of these large scale, high pressure systems and with one of Australia's largest and most qualified mobile service fleets, the company has extended its 24/7 servicing provision to this new venture.
LMF produces a wide range of compressors, all designed and built to industry standards that meet the most demanding expectations. The range includes reciprocating and rotary types with a choice of water and air cooling and options of lubricated and nonlubricated designs rated from 4 to 6200kW.
Australian industry can now have the confidence to acquire and install systems that are designed and commissioned to fit their exacting application needs through a leading, fully qualified and globally supported local compressed air specialist company.
  
Southern Cross Compressors (Australia)
1300 738 593
www.southerncrossaircompressors.com.au