HIGH-PERFORMANCE SCREW JACKS WITH INTEGRATED BALL SCREW AND NUT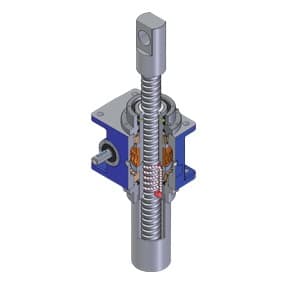 Servomech's MA BS series of mechanical jacks for high performance, distributed in Australia by Motion Technologies, is designed with an innovative patented lubrication system of the nut with a large lubrication chamber.
The integration of ball screw and nut within the body of the jack allows higher performances, positioning accuracy and rigidity within compact dimensions.
The design offers immediate cost savings through efficient optimisation of product and performance, higher load capacity from the same size, and greater rigidity of structure through the native integration of components. Eight sizes cover a wide range of performances required, with load capacities from 500kg to 35 tonnes, screw diameters from 16 to 100mm, input speeds up to 3000rpm and linear speeds up to 285mm/s.
Motion Technologies
02 9524 4782
www.motiontech.com.au