HIGH PERFORMANCE COUPLINGS IN A COMPACT DESIGN
18-09-2014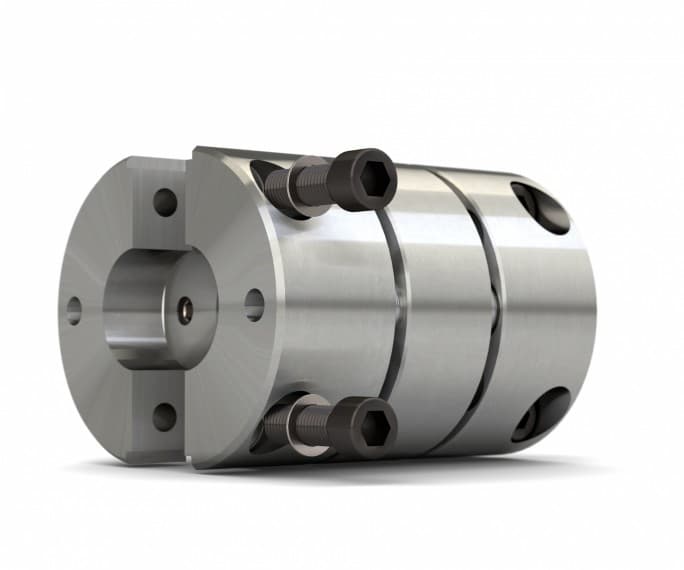 The high-performance ROBA-DS shaft couplings transmit the torque backlash-free and with high torsional rigidity.
They compensate for shaft misalignment and are both wear and maintenance free.
On the sizes up to 150 Newton metres, mayr power transmission are going to extend its standard hubs for mounting the shafts by a radially divisible hub – for easy and fast installation, even in difficult ambient conditions.
Available from Transmission Australia, the ROBA-DS servo couplings with split clamping hubs guarantee easy and fast installation, even in difficult ambient conditions.
They are suitable for large shaft distances and in all applications, in which the drive aggregates must not be moved any more.
Short dimensions, little installation space requirements, reduced weight and low mass moments of inertia – the ROBA-DS servo couplings win over customers due to their high performance density.
They are able to transmit high torques even at comparably small diameter, which makes them the ideal shaft couplings for dynamic drive systems with high speeds. These couplings are made of steel and high-strength aluminum alloys, which forms the basis for the extremely compact design.
The couplings compensate for radial, axial and angular shaft misalignments by means of the flexible disk packs. This way, they protect the bearings from unwanted wear and tear and prevent unnecessary downtimes and costs. In order to achieve backlash-free torque transmission, the disks in the fixing area are treated with a special blasting procedure. The ROBA-DS disk pack couplings are robust and reliable. They are temperature-resistant, wear- and maintenance-free and transmit the torque with very high torsional rigidity. Therefore, they are especially suited for applications in extreme ambient conditions.
The ROBA-DS servo couplings are available as double-jointed couplings with a connection plate or a variable-length sleeve. Their compact design, the short installation times and the high performance density make these couplings a particularly efficient and economic solution.
Transmission Australia Pty Ltd
Ph: 03 9755 4444