HIGH PERFORMANCE AND RELIABLE CONNECTIVITY FROM WI-FI TRANSCEIVERS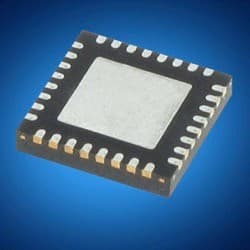 Mouser Electronics is now stocking WF200 Wi-Fi transceivers from Silicon Labs. Providing a cost-effective option for high-volume applications, the transceivers support 2.4GHz 802.11 b/g/n Wi-Fi while delivering the high performance and reliable connectivity necessary for increasing numbers of connected devices in home and commercial networks. The transceivers simplify the design of power-sensitive, battery-operated Wi-Fi products including IoT devices, IP security cameras, PoS terminals and consumer health care devices.
The small, 4 x 4mm transceivers are Wi-Fi network co-processors optimised for RF performance, low energy and low cost. With exceptionally low transmit and receive power (141 and 42mA respectively) and a link budget of 113dBm, the device offers an ultra-low-power solution for long-range Wi-Fi transmissions. They feature two antenna ports, crystal oscillator, one-time-programmable memory, and 13 GPIOs for interfacing with multi-protocol and RF front end module controls. For security-sensitive applications, the WF200S version provides secure boot and a secure and encrypted host interface.
The transceivers are pre-certified by the FCC, CE, IC, South Korea and Japan, minimising development time, effort and risk. They are supported by the SLEXP8022 expansion kit, available with or without a Raspberry Pi single-board computer. The kit enables development on Silicon Labs' microcontrollers and wireless microcontrollers, with embedded and Linux host drivers, onboard antennas, and a micro u.FL connector for external antennas.
Mouser Electronics
+852 3756 4700
au.mouser.com