HIGH-IMPACT DOORS FOR HIGH TRAFFIC AREAS
29-08-2017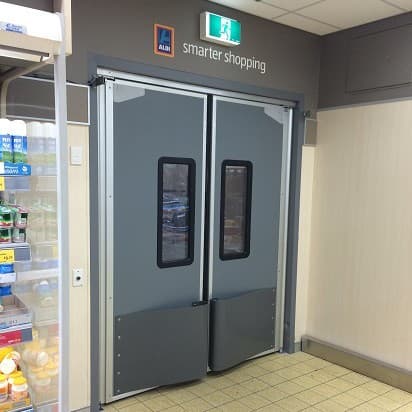 Doorways subject to high traffic require increased control against temperature, noise and dust, and DMF has provided the ideal solution to this problem with the creation of the High Impact Traffic Door.
DMF International is a Sydney based, family owned company which designs and manufactures the High Impact Traffic Door. The product is custom manufactured to suit individual needs and is constructed from 40mm thick panels.
It is also made up of compressed foam that ensures both thermal and sound insulation. The surface finish is made from a durable plastic, ABS, which can be coated in any colour to suit your décor.
A double glazed polycarbonate window increases safety, and optional bumper tyres are available to accommodate a busy traffic flow. An internal venetian blind which is set between the door's glass is now also available and it can be opened and closed externally.
The doors can withstand traffic from either side and swing out to 180 degrees. They close automatically via a concealed spring and have variable toque control.
The High Impact Traffic Door operates quietly and is designed especially for busy environments such as supermarkets, hospitals, commercial kitchens and trading areas. Major clients of the High Impact Traffic Door include Woolworths, Coles, Aldi and some major hospitals.
DMF
1800 281 170
www.dmf.com.au