HIGH-FREQUENCY 5G INTERCONNECTION SOLUTIONS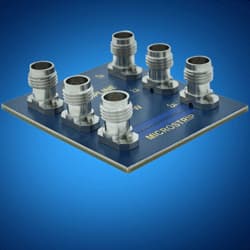 Mouser Electronics stocks a wide variety of 5G-capable interconnection solutions from Amphenol SV Microwave. 5G cellular communication promises to transform the Internet of Things through broader connectivity, more data and better reliability. These high-frequency interconnection products enable designers to start product development for these upcoming changes.
SV Microwave's 3mm board-to-board connectors feature 3mm board-to-board spacing and 0.15in (3.81mm) minimum pitch between adjacent connectors. These connectors offer a frequency range from DC to 40 GHz and provide an ultra-low stacked board-to-board high-frequency coaxial connection system.
Mini-D connection system offers high-frequency RF performance up to 67GHz with a high-density design and proven SMPS interface, which is recessed from the D-sub housing to protect it from damage. Thumbscrews allow for easy mating and unmating, while the keyed D-sub design helps engineers avoid mis-mating.
LiteTouch solderless coaxial and surface-mount connectors meet the need for high-performing, highly reliable solderless connectors for precision thin substrate mounting. LiteTouch PCB connectors, available in 2.92mm, 2.4mm and SMA configurations, maintain a solderless connection on thin dielectric PCB substrates of less than 0.01in while keeping the board material intact.
Solderless PCB edge launch connectors feature a solderless compression mount for fast and easy installation. The connectors are available in SMA, 2.92, 2.4 and 1.85mm options and are adjustable for multiple PCB thicknesses with minimal reflections through an impedance-matched PCB launch.
Tin-dipped surface mount and edge launch connectors prevent rust, corrosion and oxidisation, and enable fast and easy soldering while also increasing solder joint durability.
Mouser also stocks a wide variety of SV Microwave's RF cable assemblies in both semi-rigid and flexible options. The high-performance, cost-effective cable solutions are available with SMA, SMP, SMPM and 2.92mm connectors that support frequency ranges from DC to 40GHz.
Mouser Electronics
+852 3756 4700
au.mouser.com