Product News, Plant & Machinery
Published 08-06-2021
| Article appears in June 2021 Issue
High efficiency grit removal showcased at water conference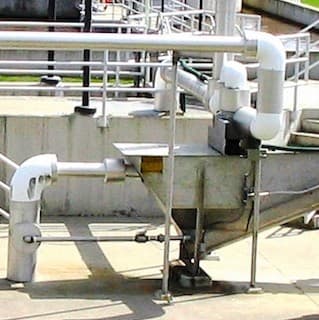 Smith & Loveless' PISTA technology sets a new benchmark in grit removal, with 95% efficiency down to 105 microns over 10:1 turndown.
Independently tested grit removal technology that achieves 95% efficiency down to 105 microns over 10:1 turndown was introduced to the annual conference of the Queensland branch of the Water Industry Operators Association in Toowoomba on June 2-3.
CST Wastewater Solutions installation and service specialist Peter Bambridge introduced WIOA delegates to the Smith & Loveless PISTA VIO grit removal system, for which it is exclusive Australian distributor.
Smith & Loveless says most grit removal systems are designed only to remove grit in the 200-300 micron range, but typically 40-80% of grit in wastewater is in the 105-200 micron size range. These findings motivated the company to develop a superior grit removal system down to 105 microns.
"With so much of Queensland and Australia's population living near the coast and in often remote sandy areas, such markedly superior grit removal offers immediate and long-term benefits in helping to prevent common grit problems in municipal and industrial water and wastewater systems," said Mr Bambridge.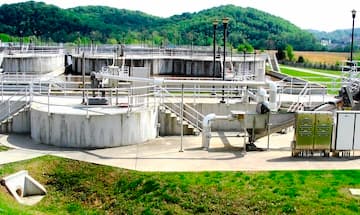 Left unchecked, grit build-ups create trouble throughout the entire wastewater process, he said. They expose plants to wear, blockages, breakdowns, flooding and hazardous recovery operations by public and private wastewater operations staff. They are on the front line of defence against such issues causing downtime and service interruptions in municipal and private industrial applications, including food and beverage.
"The Smith & Loveless technology provides clear benefits to municipal and industrial organisations plagued with grit issues. And now we've had the system independently tested to confirm its performance, and it reached the 95% benchmark it was designed to achieve," said Mr Bambridge.
The latest PISTA VIO grit removal system features full variability of inlet and outlet channels. It also features a hydraulic vortex grit chamber design that utilises a new baffle system. This type of grit removal system – one of the first of its kind in the industry – provides the ability to design the inlet and outlet channels at any variable angle up to the full 360° of the chamber. Designers can arrange the system to fit existing sites, or maximise space during construction on new sites.
CST's WIOA stand also featured:
KDS liquid-to-solid separator
This highly efficient, low-maintenance technology – also available in a skid mounted version for easy transportation via truck or trailer, including to remote sites – requires no washwater, while capturing up to 95% of solids. KDS technology removes more than 50% of the water from wastewater sludge to provide a 50% reduction in transportation costs (which are typically $150 per tonne or higher).
"The new skid-mounted KDS technology offers potential users a highly effective plug-and-play solution to waste processing needs," says Mr Bambridge. Measuring only 3.8 by 2m, it offers the type of low-maintenance high efficiency that is so important where agribusiness, industrial and municipal operations don't have the resources to place engineering staff on close standby.
Fine Screening
CST's locally manufactured screens provide a first line of defence in wastewater or waste management plants. CST provides fine screening down to 3mm to safeguard later parts of the treatment plant from larger bulkier waste that could clog systems and cause unwanted downtime.
In addition to supplying quality product, CST's Services Division also maintains and services screens to optimise their performance and ensure they can cope with varying loads.
Clarifiers
With more than 120 installations throughout Australia, CST has the experience, resources and capability for clarifier projects of diverse types, says Mr Bambridge. CST – as an authorised Australian representative of Smith & Loveless – provides a complete range of Clarifier designs and systems for all municipal and industrial water and wastewater treatment applications.
The CST range presented at the WIOA conference incorporates circular and rectangular Clarifiers, CLAR-I-VATOR solids contact clarifiers and high rate lamella and tube settler systems.
Design Features & Options:
Centre & Peripheral Drive Systems
Flat Floor-Suction Arm Systems
Concrete & Steel Tank Designs
Launder Covers & Cleaning Systems
Thickeners & High Solids Systems
EDI & Floc Well Design Options
Retrofit & Upgrade Designs
02 9417 3611 - www.cstwastewater.com