HIGH-DENSITY I/O MODULES EASE SYSTEM EVOLUTION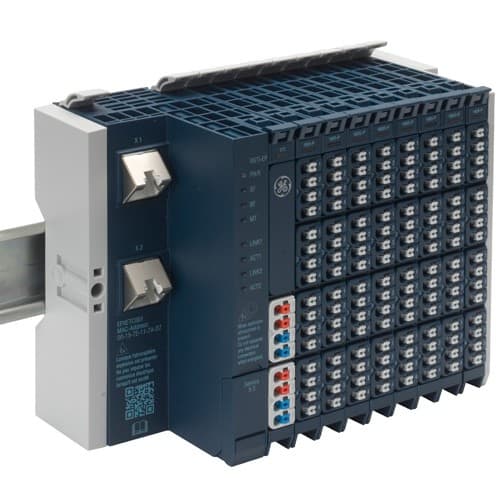 In stock now at Control Logic, the compact RSTi-EP remote I/O system from GE promises higher performance and maximised productivity in connected automation systems.
Well suited for Industrial Internet enabled applications, it features an extended operating temperature range, enhanced diagnostics, plug-and-play connectivity and high channel density to simplify machine design and maintenance. It's ideal for remote applications, especially those where I/O can be difficult to reach.
The versatile I/O system is easily expandable, and so can provide full coverage as the end user system evolves. The RSTi-EP can accommodate up to 64 modules and 1024 I/O points per drop, yet its 11.5mm I/O slices are the smallest in the industry, helping to maximise limited cabinet space. By adopting the most compact I/O system on the market, it's possible to incorporate smaller cabinet sizes into user-friendly system designs.
The high performance 4A system bus power supply makes it possible to power 64 I/O modules directly from the network adapter, saving on power feed modules, and simplifying planning and execution.
An integrated web server and advanced diagnostics allow failures in the system to be identified remotely, eliminating the need to travel to the machine, saving both time and money.
Control Logic
1800 557 705
sales@control-logic.com.au
www.control-logic.com.au