Published 02-07-2020
| Article appears in August 2020 Issue
HERO PLASTICS MAKE HEADWAY DURING PANDEMIC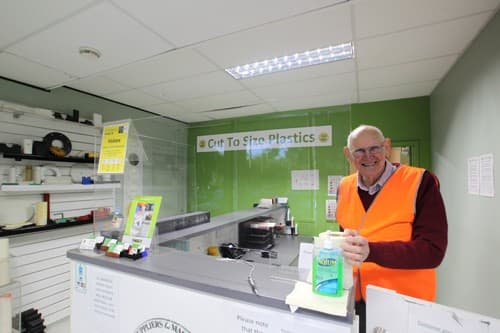 Engineering plastics, one of the major materials working to protect medical and frontline workers during the COVID-19 pandemic, has made headway as an alternative to metals in hygiene and safety-conscious industrial markets.
Machinery, componentry, safety, automation and Industry 4.0 and process applications are among the beneficiaries of engineering plastics' virtues.
Most PPE equipment – masks, goggles, gloves, gowns and coveralls – are made of non-woven polymer polypropylene. Other translucent shields between customers and retail staff, for example, are made from polycarbonates such as Wearguard, which are not only very touch but also easy to wash and chemical resistant.
"It is in fact quite possible to introduce anti-viral and anti-bacterial qualities into the formulation used to manufacture different engineering thermoplastics families," says Cut To Size Plastics managing director Laurie Green.
"While other plastics groups are suitable in their natural or food grade state to substitute hygienically and cost efficiently for metals used in production process and Industry 4.0 higher speed automation."
Custom manufactured plastics, sometimes with added hygienic, mechanical and lubrication qualities, can include Wearlon PTFE (polytetrafluorethylene) and Wearex UHMWPE (ultra-high molecular weight polyethylene).
Standard product groups, including Wearlon Nylon, Wearace Acetal and Wearthane polyeurethane can not only be modified, but are often suitable in their natural state as light but tough high-performance alternatives to metals in applications demanding excellent impact resistance, high mechanical strength, high physical protective qualities, strong washdown and chemical performance, and outstanding sliding and machinability qualities.
"In addition to being used as machinery components - shields, rollers, bearings, guards, sprockets, guides and sheaves – some of these versatile materials can be used to fabricate entire large machinery components, such as plummer blocks," Green says.
Cut To Size Plastics' engineering materials comply with some of the world's toughest food contact and process standards. The company is also registered on the NSW Government's COVID-19 Emergency Suppliers portal as a company that can supply raw material for manufacturing processes and products, as well as adapting its processes to manufacture components for urgently needed medical equipment such as ventilators.
Green, who has more than 40 years' experience in specifying and supplying engineering plastics, says the COVID-19 pandemic will give manufacturers a renewed focus on the hygiene and washdown qualities of materials to be selected for use in processes and machinery, particularly those involved in the preparation and export of food, beverage, medical and agricultural products.
"We're not saying for a moment that engineering plastics are better in every instance than metal alternatives, because you have to consider each application on its particular engineering merits," he says.
"But we do say that for an expanding variety of applications, engineering plastics may be ideal and cost-efficient for applications for which they have not previously been considered – until now."
Green says that the pandemic has made the world much more conscious of hygiene, and that could be the catalyst for Australian manufacturing to shift its focus from metals to plastics.
"European and other purity-focused manufacturers have been much more open to change, and they are the ones who have been leaders in purity and hygiene standards," he says.
"In a very hygiene-conscious, post-COVID world, our local attitudes may begin to change."
To cope with expanding demand for engineering plastics componentry, Cut To Size Plastics recently expanded its precision engineering capabilities with the introduction of a Morbidelli Author M100F heavy duty CNC router and machining centre. The performance and flexibility offered by the new machine provides a 60 per cent time saving in machining cycles compared with older technology.
Cut To Size Plastics
1800 CUT2SIZE
www.cuttosize.com.au