Here's a safe way to store dangerous goods
31-08-2010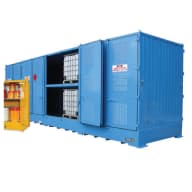 If you store dangerous goods it is vital to do so in compliance with current industry guidelines.
The storage and handling of dangerous goods must be conducted in accordance with strict Australian standards.
Even small quantities of flammable and combustible liquids (paints, thinners, some inks and even alcohol) should be stored in approved flammable liquid cabinets.
Optimum Handling Solutions has a large range of dangerous goods storage cabinets specially designed to assist in the safe and compliant storage of all hazardous material and substances.
Whether you are storing flammable, toxic or corrosive liquids Optimum has a solution.
Optimum's internal dangerous goods storage cabinets provide an ideal indoor storage solution for smaller bottles and drums capacities from just
30L to a huge 850L.
With adjustable internal shelving and gas strut assisted locking doors these cabinets are very user friendly.
The Optimum range of outdoor re-locatable dangerous goods stores provides a space efficient solution without having the problems and expense associated with building fixed stores.
They are suitable to all industry types where higher storage volumes of 205L drums or IBC's are required.
With capacities ranging from just 820L up to 26,000L, these units provide a safe solution for your storage requirements.
All dangerous goods cabinets by Optimum Handling Solutions are manufactured in Australia and built to Australian standards.
The entire range of dangerous goods cabinets offers an unmatched level of quality, durability and unique features.