Here's a safe way to store gas cylinders
31-08-2010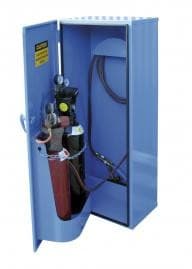 Storemasta, a leader in storage solutions, now offers a range of cabinets for the storage of gas cylinders in motor vehicles.
Catering for the small 4.5kg and 9kg LPG cylinders through to the 'D' and 'E' size oxy/acetylene cylinders, the range is ideal for tradesman, including plumbers and gas fitters.
Occupational health and safety has been the main focus in the design and construction of these stores.
To curb often fatal incidents involving leaking cylinders housed in motor vehicles, the Storemasta vehicle gas cabinets are fully sealed and are vented to outside the vehicle.
The cabinets are easily self-installed and are supplied with the appropriate safety and warning signage. 
Regulations require the cylinders to travel in the vertical position with regulators and torches removed. The cabinets all include provision for the storage of regulators, hose and torch.
The STOREMASTA vehicle gas stores, available from Priority Supplies, can be fitted to all trades vehicles.
Industry applications include plumbing, refrigeration, construction, mechanical services and protective coatings industries.
Priority Supplies 
Ph: 1800 245 578