Here's a perfect handling solution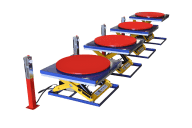 Safe and efficient … Scissor lift tables from Optimum Handling Solutions 
If you need to palletise and de-palletise goods safely and efficiently, then Optimum's Scissor Lift tables are an ideal solution.
A national warehousing company recently approached Optimum to find a more efficient way of unloading a high volume of goods from its pallets each day. 
In this case, there was a high risk of injury, as operators had to bend below waist and above elbow height to unpack pallets for sorting.
An experienced Optimum consultant assessed the situation and chose the LTH2010 – 2000kg Heavy Duty Lift Table with the Logic Lift Height Sensor option and the Palturn turn table for the application. 
The popular logic lift height sensor unit keeps the pallet at the perfect working height throughout the whole unloading procedure, resulting in a safe and efficient de-palletising process.
Eight of these pallet elevating units were put into action in four of the company's distribution centres in NSW, VIC, QLD and WA along with Optimum's durable gravity conveyor system.
The end result was that safety was significantly reduced and productivity increased.
"The whole de-palletising process has sped up amazingly and most importantly has reduced a lot of safety hazards," the plant manager told Optimum.
The Optimum Group can offer customised solutions for a wide variety of industry applications.
Optimum Handling Solutions
Ph: 1800 066 008