HERE'S A FUN WAY TO GET FIT AT WORK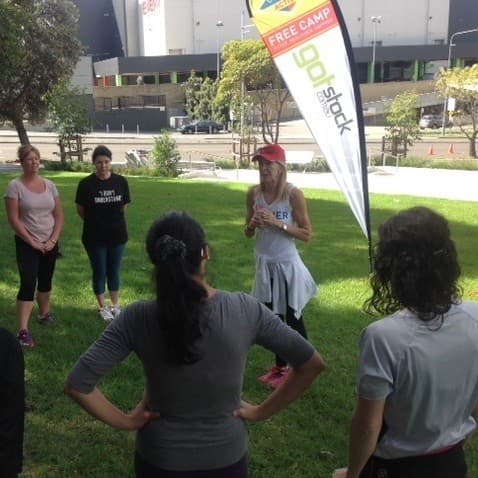 An estimated 14 million Australians are either overweight or obese.
And with this condition comes other related health issues including diabetes, heart disease, hip and knee problems, back pain and depression.
A Monash University study of 500,000 workers conducted last year alarmingly revealed that more than one third (35 per cent) of male manufacturing workers have a high risk of developing type 2 diabetes – a life threatening but preventable chronic disease.
Damaging health habits, in particular smoking and drinking, are the key drivers for this elevated risk – about half of male manufacturing workers (49%) drink alcohol at risky levels and more than one in four smoke (27%).
Now there's a new lunchtime community health and fitness program designed to get workers up from their desks and chairs – and get them moving outside in the fresh air.
Live Life Get Active is the brainchild of dual Commonwealth Games gold medallist Jane Flemming and Amanda King, a former advertising senior executive.
With the support of business and local government this dynamic duo are organising daily lunchtime activity camps for workers across Australia – and it's free to join in.
"Obesity is an horrendous problem in Australia," says Jane. "Obesity related illnesses – diabetes, stroke, heart disease, depression and cancer – cost the nation $58 billion a year."
So she and Amanda with a team of highly qualified personal trainers are determined to address this major problem.
Live Life Get Active runs weekday camps at nearly 30 locations across Australia, including Sydney, Central Coast (NSW), Canberra and Sunshine Coast (QLD).
"And by the end of the year we hope to have between 100 and 150," says Jane. "Our ultimate goal is to end up with 5,000 of them within the next four years."
Jane was speaking at the launch of the latest camp at Elouera Reserve, Macquarie Park in northwest Sydney, sponsored by gotstock.com.au, a leading supplier of tools and workplace safety equipment and accessories, Klean Kanteen (a leading Australian supplier reusable stainless steel water bottles) and the City of Ryde.
Nearly 70 local workers have already registered to take part in the Macquarie Park five-day lunchtime program that includes cross training, boxing and yoga.  
Each program runs for 40 weeks.
Participants in all camps are also given a comprehensive free nutritional plan prepared by leading nutritional consultant Dr Joanna McMillan.
The fitness classes are open to anyone 18 years or over and cater for beginners, intermediate and advanced levels.
"Gyms can be so intimidating," says Jane.
Many people feel uncomfortable if they don't fit the 'gym fit' image, she says.
"This is a fun way to get fit and lose unwanted kilos – we cater for all levels. And it doesn't matter if you don't look good in Lycra."
The classes attract a cross section of workers from all professions and backgrounds.
"People are losing kilos and at the same time getting social engagement and building a sense of community."
Jane encourages factory workers, in particular, to take advantage of free classes in their local area.
She also encouraged manufacturing employers to sponsor a camp for workers who don't have access to one of the existing camps.
"Research has proven that daytime activity like this keeps workers mentally alert," says Jane.
And alertness is vital when workers are operating heavy machinery.
Chris Foster, sales and business manager, gotstock.com.au, said his company was delighted to be involved in the Live Life Get Active program.
"We encourage our clients and employees to get involved in this great initiative," said Chris.
All participants at the Macquarie Park camp received a free t-shirt, sunglasses, umbrella and bottle of mineral water courtesy of gotstock.com.au
To register for the Live Life Get Active program visit: www.livelifegetactive.com