Here's an EZY way to move equipment
31-08-2010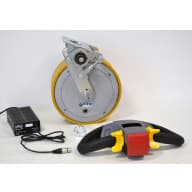 Materials handling specialists Warequip have added the innovative EZ Wheel from France to its expanding range of quality products.
The EZ Wheel range offers a variety of powered options for either existing equipment or a custom project build though its autonomous drive systems.
These wheels are designed to alleviate the burden of moving wheeled equipment.  
An autonomous drive system comes in kit form, which includes a drive wheel with mounting kit, wireless interface and control handle.
With no wires or cable required, it can be used in almost any application keeping the aesthetic appeal of the original equipment.
The autonomous wheels have the batteries and motor embedded into the wheel, meaning they can be quickly and easily fitted to any form of rolling equipment.
This includes everything from hospital beds to an equipment trolley on a production line.
With multiple wheel sizes and tyre compositions there is an EZ Wheel to suit your needs.
For more information use the contact options below.