HERE'S A CLEVER WAY TO HARVEST ENERGY – AND SAVE LAND
18-08-2015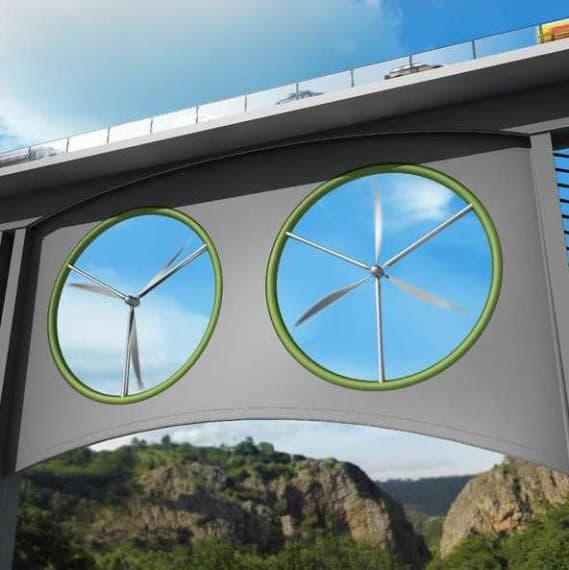 UK researchers have discovered an innovative way to generate renewable energy in countries with a high population density – without taking up valuable land.
Placing wind turbines in "dead space," such as underneath bridges, is a strategy that's often been suggested, but no one's ever tested how efficient it could be – until now.
The researchers have used computer modelling to show for the first time that not only would wind turbines hanging below tall bridges be a viable way to harvest sustainable electricity, but that one of these installations would be capable of generating around half a megawatt of electricity, or enough to power about 450 to 500 homes.
"This kind of installation would avoid the emission of 140 tonnes of CO2 per year, an amount that represents the depuration effect of about 7,200 trees," Oscar Soto, a researcher on the project from Kingston University in London, told Spanish publication SINC.
The team modelled the efficiency of different wind turbine options hanging from a viaduct bridge – a bridge that crosses only land, not water – in the Canary Islands off the coast of north-west Africa.
The Canary Islands is a perfect theoretical testing ground for this type of technology, as it's already invested heavily in renewable energy.
In 2014, one of its islands became the first in the world to be powered entirely by wind and water, supporting an estimated 10,000 residents.
The computer simulations showed that turbines hanging off the Juncal viaduct on Gran Canaria Island could definitely contribute to their electricity generation, without taking up precious space on the island.
So what type of turbines should be attached to bridges?
The researchers compared fluid dynamic simulations and found that multiple small turbines generate more electricity than large ones, and the best set-up in terms of energy harvesting would be 24 small turbines stationed under the Juncal viaduct.
"The bigger the rotor surface, the more power can be extracted," said Soto. 
But when you factor in the cost and difficulty of installing all of these small turbines, the benefits are actually cancelled out. In the end, the most efficient structure involves two identically sized turbines capable of generating a quarter of a megawatt each, which you can see in the artist's recreation above.
The results have been published in Renewable and Sustainable Energy Reviews.