Here's 300 ways to protect your cables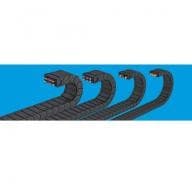 Tsubaki Kabelschlepp, a global leader in closed cable carriers, has further extended its extensive range of TKA cable carriers.
The three new type series TKA30, TKA38, TKA45 and the TKA55 complete the portfolio of closed cable carriers by Tsubaki Kabelschlepp.
The TKA product family now comprises more than 300 versions. 
The cable carriers with an especially tight design reliably protect cables against dirt, chips and spray water. 
The design of the TKA cable carriers effectively prevents the intrusion of foreign bodies into the cable space and ensures reliable protection of the cables right up to the connection area. 
The TKA55 was tested according to IP54 and confirmed by TÜV NORD. The design of the side bands and the cover system protects cables against spray water from any angle and against the intrusion of dust. 
All TKA type series are optionally available as extremely heat-resistant models: A special material securely protects cables against negative effects, for example from chips with a temperature of up to 850°C.
The three new type series were developed on the basis of TKA55. Essential product features are the optimized geometry of the chain links and a triple encapsulated stroke system which allows large self-supporting lengths while being highly torsion-resistant. For more information visit:
www.kabelschlepp.de/solutions2013
.
Tsubaki Australia Pty Ltd
Ph: 02 9704 2500