Published 14-11-2019
| Article appears in November 2019 Issue
HELPING CUSTOMERS ACROSS THE GLOBE TO KEEP THEIR COOL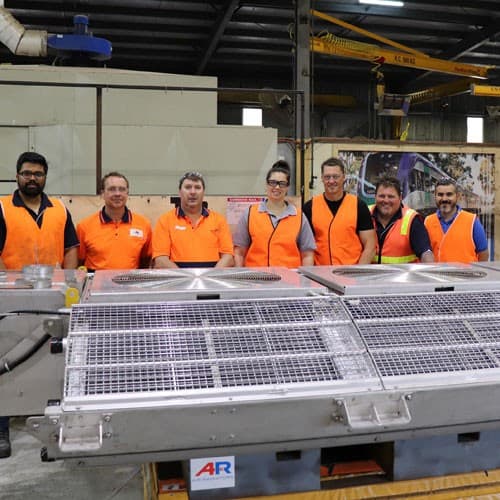 What started out as a small radiator manufacturing business in South Australia in 1985 is now one of Australia's leading cooling system specialists taking on the world.
The Adrad Group consists of several individual but aligned companies including Adrad, Air Radiators and Harrop Engineering, which as a collective specialise in the design, manufacture and distribution of quality radiators and heat exchangers, automotive air-conditioning parts, and other industrial cooling and automotive products.
With its operations now spreading across Australia, New Zealand, Thailand, the USA and the UAE, the family-owned Adrad Group continues to grow with a particular focus on the South East Asia region.
"Across the Adrad Group there is a genuine desire to create great products for our customers no matter where they are based in the world," says Don Cormack, Chief Executive Officer of the Adrad Group.
"We've certainly experienced plenty of challenges over the years – as has the broader manufacturing industry in Australia – but we've always maintained a determination to keep innovating and evolving, which has enabled us to grow nationally and internationally.
"Sustaining growth as a private enterprise relies upon a combination of reinvestment of profits and debt funding, so maintaining a good working relationship with our bank is very important."
Since moving its banking to BankSA three years ago, the Adrad Group has been impressed with the level of support, engagement and ability of the BankSA team in terms of understanding the fundamental drivers and requirements of the business.
"The BankSA team took the time to visit our sites in Adelaide and Melbourne to see firsthand how our business operates. It gives me comfort that BankSA have our best interests at heart and will back us, not only with our funding requirements but with industry expertise to support our business plan and growth."
While the companies that make up the Adrad Group are operated separately, Don Cormack says they each benefit from shared synergies in terms of design and manufacturing expertise.
Adrad stands as the largest aftermarket automotive engine cooling and air-conditioning parts supplier in Australia and New Zealand, currently stocking more than 20,000 products.
The group operates six manufacturing facilities across Australia that build radiators, oil coolers and intercoolers for everything from vintage cars through to mining trucks, construction equipment and specialist applications.
"Adrad supplies the market with thousands of quality products, including Australian manufactured parts, and parts sourced from a range of leading global manufacturers," says Cormack.
"Indeed, the range of parts provided by Adrad has continually evolved over the past 30 years and continues to progress and grow to meet the ever-changing technology used in passenger cars, heavy vehicles, earthmoving, mining and other specialist equipment.
"Adrad's manufacturing division also helps ensure a ready supply of high quality products for customers, particularly for heavy vehicle users where quick repair turnaround times are vital."
Air Radiators is a world-class designer and manufacturer of innovative heat transfer and air movement solutions, renowned for its engineering prowess and as a pioneer of new technology.
From its manufacturing facility at Geelong in Victoria, Air Radiators has provided cooling equipment to many large-scale customers, including Kenworth Australia trucks, Caterpillar underground mining dump trucks and loaders, and Hitachi dump trucks and excavators. It has also supplied products for international heavy equipment manufacturers and for large infrastructure upgrades across Australia, including passenger rail projects.
Air Radiators' facility at Gillman in South Australia manufactures large-scale industrial cooling units for power generation, including the supply of massive heat exchange modules for projects across the Asia-Pacific region, catering for large reciprocating engines, gas turbines and co-generation plants that provide power for mine sites and other remote locations.
"Air Radiators has an unrelenting commitment to the design and manufacture of innovative heat transfer and air movement solutions, which are developed in partnership with our customers," says Cormack.
"Forged in one of the harshest climates in the world, Air Radiators' products are engineered to thrive in tough environments and continue to push the boundaries through innovative design and quality manufacturing processes.
"In fact, earlier this year Air Radiators was honoured at the Victorian Manufacturing Hall of Fame Awards, being formally recognised as the Leader in Innovative Product Development and Commercialisation."
Unlike Adrad and Air Radiators, Harrop Engineering does not make cooling systems but is a design and manufacturing leader in automotive performance parts, producing a range of quality products to enhance street, track and off-road vehicles including superchargers, brakes, differentials, suspension, wheels and other components.
Founded in 1955 and becoming part of the Adrad Group in 2008, Harrop Engineering is a supplier of original equipment and aftermarket parts for Holden, Ford, Lotus, Toyota, Yamaha, plus many other performance vehicle applications.
"The Harrop Engineering name has become synonymous with Australian manufactured automotive performance parts," says Cormack.
"Harrop's design and engineering skills are also utilised to manufacture and supply specialised components for other Australian businesses, including operation of an aluminium casting foundry which provides cast parts for internal use and external sale."
Don Cormack says the success of the Adrad Group can be attributed to a dedicated team of hardworking staff.
"Common across the Group is a determination and passion to exceed customer expectations in terms of quality, delivery times and service," he says.
"Combining strengths, resources and capabilities allows each company to operate at the forefront of manufacturing technology, providing growth and support for local jobs while maximising opportunities for future innovation."
Adrad Group
adrad.com.au
BankSA
banksa.com.au/manufacturing