Hello yellow: new look Bottlechock is here
31-08-2010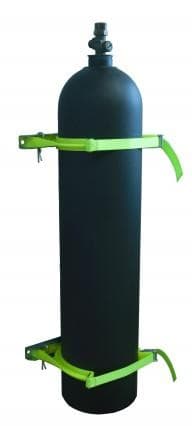 Safe and secure … Bottlechock from VISIONSafe
Bottlechock, a unique cylinder restraint system from VISIONSafe is now available in Hi Vis Yellow for added safety.
Bottlechock is a must for anyone that needs to securely store high-pressure gas cylinders.
This innovative system not only provides safety, but also convenience and ease of access. 
Bottlechock is suitable for anything from securing a gas cylinder in a work ute to frequent use industrial applications.
It is purpose designed to keep cylinders secure and at the same time protect staff and often valuable gauges and equipment. 
The clamp grips around, maintaining full contact with the cylinder to restrict both horizontal and vertical movement. The unique clamp design allows a range of different cylinder diameters to be held by the same clamp. 
Bottlechock is available in complete kits that can hold from one to four cylinders in separate, individual chocks contained in a single bracket. 
This provides a compact, easily accessible storage solution without compromising on the safety of the workplace. 
The Bottlechock is an Australian made product, tried tested and designed for the harshest of outback conditions.