Heavy move? No problem with Airskates
31-08-2010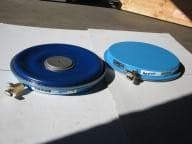 Smooth move … Airskate Modules (top and underneath with the diaphragm that slides when air is on)  
If you're looking to move heavy machinery and space and time is tight, look no further than the revolutionary Airskate from the Sippel Group.
Airskates are easily positioned under machinery and equipment allowing safe, careful movement and accurate final positioning of load.
The Sippel Group has been safely moving machines and heavy objects with 100 per cent success for more than 36 years, with no personal injury or damage to equipment, floors or buildings.
The Airskate has been used successfully in nearly all industry sectors including manufacturing, commercial, entertainment, banking, oil platforms, confectionary, food and beverage.
Sippel manufactures the equipment, using more than 60 per cent local content. 
Airskates are usually used in sets of four with piping and manifold. Most Airskates come with Manual Deadman Air On/Off Control.  
The system can also be used in sets of 3, 5, 6 or however many are required to support load or to cope with load magnitude.
It can operate off plant compressed air for repetitive use or mobile compressed air for short time concentrated use.
Sippel Group
Ph: 02 9567 4889