HEAVY LIFT CUSHIONS STACK AND LOCK TOGETHER TO RAISE LARGER LOADS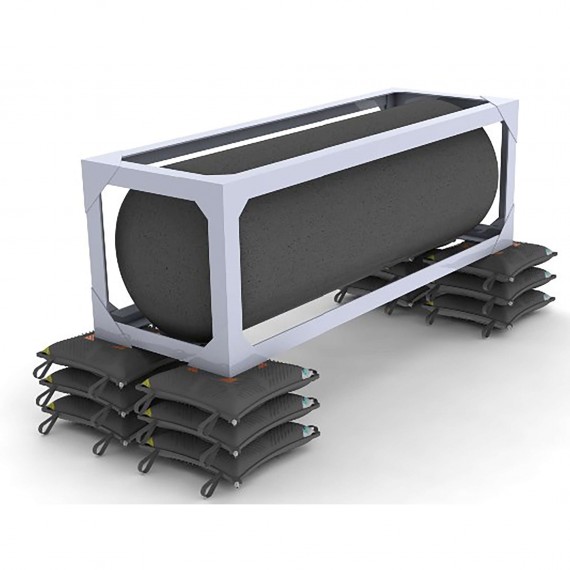 A new range of interlocking stackable Pronal heavy lift cushions are now available from Air Springs Supply for heavy horizontal raising and rescue tasks.
The CPF 10bar Platform Lifting Bags – with individual starting thicknesses of just 25mm and individual lifting capacities up to 84.6t – can be stacked in threes for extremely stable lifts up to 510mm.
Their flat, interlocking tops and bottoms make them a most forgiving and effortless lifting solution in compromised and difficult stabilisation situations including in softer, irregular and remote areas, says James Maslin, National Sales and Marketing Manager for Air Springs Supply, which is the Australian national distributor for Pronal products.
The Platform Lifting Bags are particularly useful for lifting items such as pressure vessels, electrical machinery and fabricated steel components. And thay can also be used for machine height adjustment in industrial and materials handling applications.
Available in individual lifting capacities of 31.4 to 84.6 tons, the five models of CPF bags weigh from just 11 to 26kg, adding to their safe ease of handling and positioning in awkward and emergency situations.
CPF lifting cushions and Air Springs' complementary Pronal ranges combine the advantages of high durability and power with gentle, precisely controlled lifting that can spread the load over broader surfaces of the object being lifted, rather than focusing the power on point loads.
"These robust, smooth and powerful lifters – built to the same Pronal global standards trusted by military, civil, aviation and maritime authorities – are the ideal product to lift heavy horizontal objects effortlessly," says Maslin.
The cushions' flat, interlocking tops and bottoms enable them to be safely and easily stacked in threes, offering a most forgiving and safe solution in stabilisation situations. A secure lifting column is created by the weight of the object being lifted and the surface of the lifting bag.
Made from several layers of elastomer, they are vulcanised under vacuum in an autoclave for dependable long-life performance.
Air Springs Supply
02 8877 5500
www.airsprings.com.au