Materials Handling & Equipment
| Article appears in October 2019 Issue
HEAVY-DUTY WHEELS LAST FOR YEARS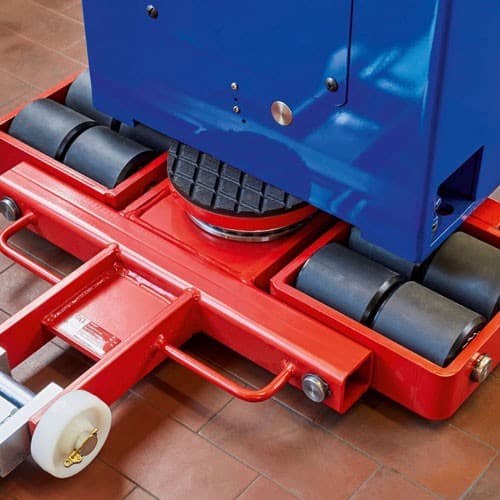 A weight of 100t is too large for ordinary heavy-duty wheels to handle, and after a short time, their treads will tear off. But now Tente has developed a customised wheel for one particular client that needed long-term durability, even with loads of that weight.
Georg Kramp is a German manufacturer of jacks, trolleys and remotely operated transport systems under the brand name GKS perfekt. These products are designed for loads up to 100t, including safes, machinery and train components. The jacks are used to raise the loads, and the trolleys are then be used to transport them to their place of use.
During these operations, ordinary trolley wheels can suffer serious damage. After only a few months, the treads detach from the wheel core and the wheels have to be replaced.
The situation isn't helped by the variety of different surfaces at the company's different facilities, which can be a major contributor to the excessive wear on the wheels.
So Georg Kramp approached Tente looking for a solution that could not only withstand its heavy loads but also perform reliably even on difficult floor surfaces.
These combined requirements meant that Tente would need to develop a completely new design. The result is a wheel with four ball bearings, a toothed aluminium core and a fibre-reinforced polyamide tread. The interlocking of the core and the tread is crucial, providing a larger connection surface and resulting in maximum hold for a particularly strong connection.
The polyamide used for the tread also plays a key role in ensuring durability. It is characterised by high strength, stress resistance and outstanding impact strength. It also has good anti-friction properties, which make the tread abrasion-resistant and provide additional protection on uneven floors.
To ensure precise rotation and the largest possible contact surface, the running surface of the wheels is given a plain finish. The wheels can be supplied with black or white treads, and for electrostatically protected working areas, conductive models can also be provided.
The new GKS perfekt trolleys featuring Tente's newly designed heavy-duty wheels have allowed Georg Kramp to significantly improve its market position. The company is now looking to collaborate with Tente internationally, making the most of Tente's advantages as a global manufacturer.
PANES, NOT PAIN
Another German company approached Tente with a different requirement for its trolley wheels. Transporting panes of glass requires great care, especially when the panes can be as large as a minibus. The task calls for transport trolleys that are highly manoeuvrable and also safeguard the physical wellbeing of the user.
The Interpane Group is now owned by Japanese glass group, Asahi Glass. It employs 50,000 people worldwide and has provided glazing for the façades of large-scale construction projects including One World Trade Centre, New York, The Marq, Singapore and One One One Eagle Street, Brisbane, as well as many smaller projects.
Interpane is one of the few manufacturers worldwide to produce coated glass in sizes up to 18m long, 3.2m wide and 20mm thick. However, most orders measure about 7.5 x 3m and weigh no more than 2.5t.
Interpane attaches great importance to workplace health and safety when manufacturing and transporting its products, and pursues a proactive, zero tolerance strategy, planning and optimising all of its processes.
When the glass is cut to size and loaded onto transport trolleys, it presents a particular challenge in terms of operational safety. If heavily loaded trolleys move too quickly or get caught on uneven surfaces or obstacles, they could bump into an employee's ankles or run over their feet.
In order to prevent injuries, Interpane had previously used two different foot protection systems, neither of which was ideal. There was a rigid system that was fine on level floors, but as soon as the trolleys hit a bump the foot protection came into contact with the ground, potentially causing the trolleys to stop suddenly or even tip over. The alternative, a flexible device, posed a similar risk as it could be drawn under the wheels and jam the castors.
As both models posed a danger for both employees and the goods being transported, Interpane approached Tente for a practical alternative.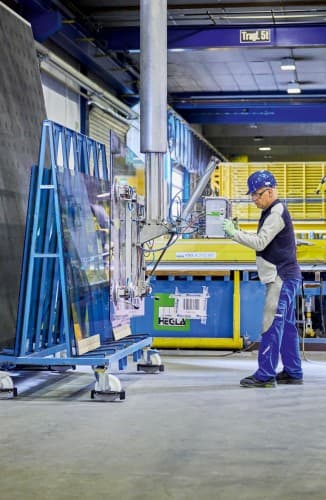 Tente developed system that combines rigid steel and flexible natural rubber elements. Rigid guardrails attached to the side of the each wheel ensure that it is guided safely around a foot.
At the same time, flexible aprons made of rubber with a Shore hardness of 80 are fitted in front of and behind the wheel. These are mounted so that they are pressed in towards the wheel as soon as it comes into contact with a foot, and this braking effect prevents the castor from moving on and crushing the foot.
The design is available in several sizes, and is suitable for quick and easy retrofitting. What's more, it is suitable for use at temperatures between -40 and +80°C.
The foot protection system has proved a hit with Interpane Group's corporate safety coordinator Tobias Rüther, who has recommended it for use in all of the group's factories.
"With Tente's solution we have improved both occupational safety and the protection of our products," he says.
Tente Castors & Wheels
1300 836 831
www.tente.com.au