Published 07-11-2019
| Article appears in November 2019 Issue
HEAVY-DUTY WELDING HELMET COMBINES COMFORT AND PROTECTION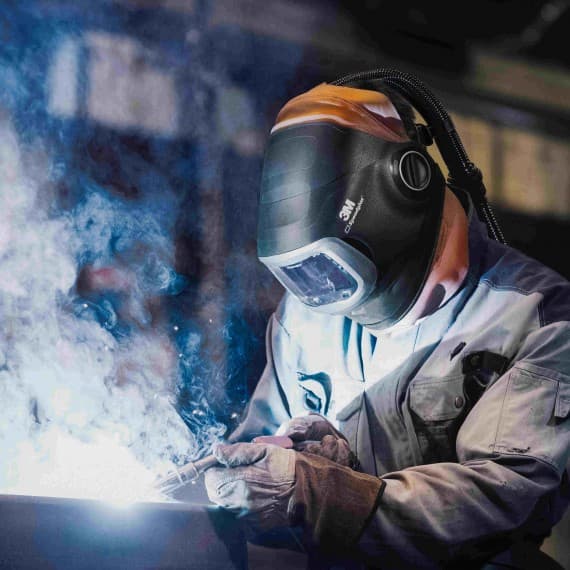 Available now from AWS, the 3M Speedglas G5-01 heavy-duty welding helmet with Adflo PAPR promises maximum comfort, protection and adaptability for professional welders. This fifth-generation Speedglas welding helmet introduces the latest in welding lens technology combined with flip-front functionality for grinding.
The Speedglas G5-01VC welding lens comes with a novel variable colour technology, allowing users to choose between warm, natural or cool colour tones for their dark state. This means that each welder can choose the colour tone that provides the best contrast for their welds as well as comfort for their eyes.
The heavy-duty helmet comes with the heavy-duty Adflo powered air respirator, providing up to 12 hours of continuous respiratory protection against welding fume, with a required minimum protection factor of 50 (per AS/NZS 1715:2009).
For greater control over their comfort, the helmet features an innovative respiratory duct system with multiple airflow adjustments. Users can direct the airflow toward their face or visor or adjust the amount of air coming in from the top or side outlets of the helmet. And all these airflow adjustments can be made while wearing the helmet, so welders maintain protection.
The Speedglas G5-01 is available with a range of configurable head and neck coverage options. For extended non-welding tasks, users can simply unscrew and remove the welding shield component, leaving only the clear visor, thereby reducing the helmet weight by over 35%.
The extra-large G5-01VC auto-darkening lens (73 x 109mm) features shades 3/5/8-13 as well as a new shade 14 for high-amperage heavy-duty welding. A new two-step recovery process uses an intermediate shade 7 when switching from a dark to light state, helping to minimise eyestrain.
A new, optional helmet-mounted task light provides hours of powerful lighting and runs off the 3M Adflo Li-ion battery, enabling welders to enter and work in poorly lit spaces.
AWS
02 9439 0111
www.awsi.com.au