Heavy-duty storage for heavy components
31-08-2010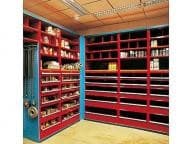 Workplace storage specialist Actisafe now has available customised heavy-duty shelving systems for storing components used for power transmission systems.
When designing customised solutions for management and personnel within this sector, Actisafe pays particular attention to the need for drawers specifically for smaller items.
These system can store just about anything – bearings, electric motors, resistors, capacitors, chains, belts, solvents and chemicals, electrical components, actuators, screws, fixtures, joints, spindles are shafts, motors, machine elements, gears and racks, couplings, clamps and gearboxes.
With Actisafe's customised storage units you can achieve extreme space efficiency.
Made of heavy-duty steel and finished with a long wearing powder coat, they can be designed to be as high as is required – even as floor-to-ceiling configurations.
Actisafe power transmission store shelves are also configured for easy labelling of the components they contain, so the orientation of the stock it keeps his down to the final user.
And should more storage space be required after the initial installation, Actisafe can design more shelving solutions to integrate perfectly with existing units.
Actisafe
Ph: 1300 852 397