Heavy Duty Dewatering Pump
29-01-2013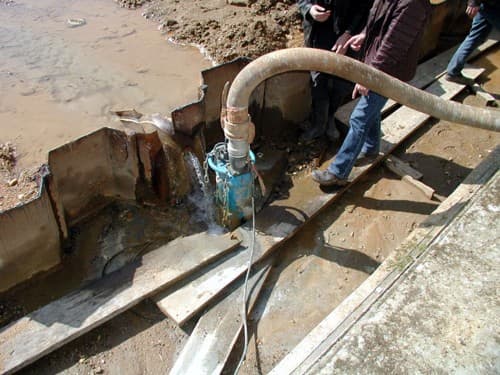 The KTZ series of dewatering pumps is tough on building, construction and mining sites.


Within the building, mining and construction industries water management is one of the most important aspects of the efficient running of a site. One Australian company, Australian Pump Industries, has a series of unbreakable dewatering pumps designed for just such applications.

 "The KTZ series is manufactured by Japan's largest submersible pump company called Tsurumi," said Aussie Pumps Product Manager Craig Bridgement. "Tsurumi are famous for their advanced design and heavy duty construction, they have the capacity to build over 1 million pumps a year!!" he said.  

The series was specifically designed to withstand the most demanding conditions found in building, civil engineering, mining sites and even batch plants.  The three phase pumps have flows of up to 2,440 lpm and maximum head of up to 48.5 metres.

"The KTZ series are loaded with features designed to give operators the best possible long life and low maintenance outcomes," said Bridgement. "Many of these are quite unique to Tsurumi and are in line with their philosophy of no-compromise design," he said.

The motors feature inbuilt thermal motor protection that cuts power on over current or extended dry run conditions. The self-reset activates once the motor has cooled allowing the pump to automatically restart.

Like all Tsurumi submersible pumps, the KTZ series includes exclusive features that extend the life and enhance reliability of the pump. They include an anti-wicking cable entry that prevents water from entering the motor if the power lead is damaged or nicked.  

A double silicon carbide seal is standard on all models. Both seal surfaces are submerged in an oil chamber, away from the pumped liquid. This ensures lubrication and protects ingress of foreign materials.

The mechanical seal design features a patented Tsurumi Oil Lifter that increases seal longevity. The lifter ensures both the upper and lower seals are lubricated and cooled, even if the oil level in the chamber is low.

 "These features virtually knock out the biggest failure points on any submersible pump," said Bridgement. "Better products, lower operating costs and Tsurumi's dedication to 'total quality' philosophy makes this product perfect for the construction, building and mining industries," he said.

Further information on the complete range of Tsurumi dewatering pumps is available on the Australian Pump website (www.aussiepumps.com.au) and from Aussie Pump Distributors throughout Australia.