Heavy duty air curtains for the great outdoors
31-08-2010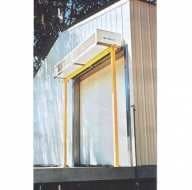 Industrial air movement specialist Fanquip has unveiled a heavy duty Air Curtain specifically designed for either indoors or outdoors.
Unlike many others, Fanquip's Australian-made air curtain is a long-wearing technology that is weather proof and can thus be mounted on an external site wall.
This rugged unit is specifically made for harsh installations, such as those above doorways to repair workshops and storerooms commonly operating in the mining, quarry and engineering sectors as well as agricultural and rural businesses.
Fanquip Air Curtain is an ideal solution for a dust free working environment that replaces the unreliable option of placing plastic cover strips over doorways.
Maintenance on the new Fanquip unit has been reduced by about 80 percent, as only six screws need to be removed from the fascia to gain full access to the mechanics of the unit.
Also, the Fanquip Air Curtain is easier to install than traditional air curtains – and are more cost-effective during operation. 
The equipment is heavy duty, centrifugal configuration, supplied in galvanised construction. A modular direct drive set-up simplifies the overall system, ensuring there are fewer moving parts to wear out.
The typical Fanquip model Air Curtain is constructed and supplied with IP56 moisture protection to maintain long lifespan in humid, dirty or damp conditions, or steam-process environments.
Fanquip
Ph: 1800 224 308