HEATERS ARE FASTER AND SAFER FOR BEARING MOUNTING AND MAINTENANCE
12-01-2018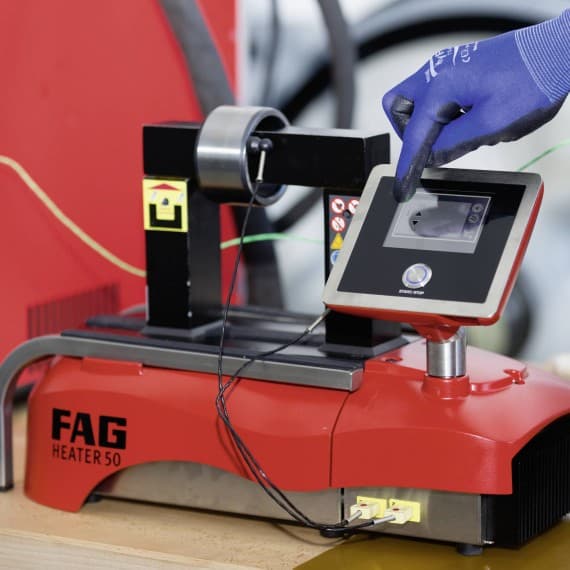 The latest generation of FAG Heater devices from Schaeffler are suitable for use on rolling bearings weighing up to 1.6t for mounting and maintenance operations. A broad range of bearing sizes – from bores of 15mm through to outside diameters up to 2m – can be heated using the new range, which includes both tabletop units and floor-standing units.
These heating devices are used in installation and maintenance of bearings in a wide range of industrial machinery. They can also be used to heat clutches, gears, and other ferromagnetic components quickly and safely.
The new range of heaters feature Delta-T control, using two sensors to continuously measure the temperature difference between the inner and outer side of the component being heated during the heating process. This helps to prevent damage caused by preloading in the workpiece as the device's output is reduced shortly before a preset maximum temperature difference is reached. This gives the heavier outer ring enough time to expand to the required extent.
This also makes Delta-T control a safer solution for heating rolling bearings. The heating process can also be started with a time delay via remote control in order to provide increased safety for the mounting personnel."
The new heaters boast efficiency values of up to 0.9. This reduces the heating time and energy consumption, which in turn means lower operating costs. The microprocessor-controlled heating process is 30 to 50% faster than previous versions.
The heaters are controlled via a user-friendly menu that is available in more than 20 languages. Using the intuitive touchscreen, the user can select from four different heating methods. The system additionally allows the heating process to be documented, favourites lists to be created, and heating curves to be graphically illustrated.
Schaeffler Australia
02 8977 1000
www.schaeffler.com.au