HEAT EXCHANGERS TURN TO FOOD INDUSTRY STERILISATION DUTIES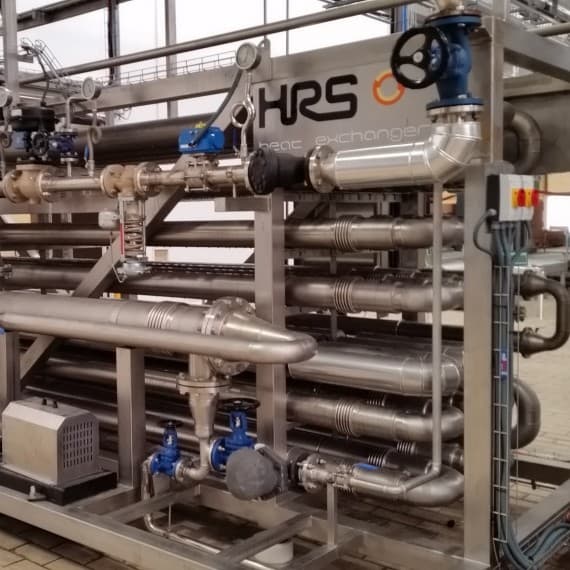 HRS Heat Exchangers has developed a range of pasteuriser/steriliser units for the food packaging industry.
All HRS Thermblock systems allow for full adjustment of the heating-holding-cooling cycle of the product, so that it can be tailored to a specific product and method of working. They can also be used as high-temperature short-time units, subjecting the product to high temperatures for a short time to minimise potential side effects, such as organoleptic changes or nutritional losses.
The Thermblock DTA Series features a double tube pasteuriser and steriliser for food products containing pieces or particulates, such as fruit and vegetable dices. The steriliser comprises double-tube corrugated heat exchangers from the HRS DTA Series and also includes a positive displacement HRS BP Series piston pump which is specifically designed for products containing large pieces.
The Thermblock AS Series is a packaged annular-space pasteuriser and steriliser solution for thermal treatment for pasteurising and sterilising food products with high viscosity. The steriliser is composed of concentric tube heat exchangers, or annular space heat exchangers from the HRS AS Series, which are particularly suitable for high-viscosity products without particulates.
The Thermblock M Series is for food with low or medium viscosity. The steriliser is composed of multiple-tube corrugated heat exchangers from the HRS MI Series and HRS MR Series. A key feature is that it can be designed to include direct or indirect energy recovery, which means that up to 90 per cent of the energy can be reused, greatly reducing overall energy consumption and improving the return on investment.
HRS Heat Exchangers
03 9489 1866
www.hrs-heatexchangers.com