Health warning for manufacturing workers
31-08-2010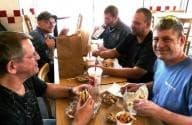 Australian manufacturing workers are now facing serious health risks, including type two diabetes, according to a new industry report.
New research from WorkSafe Victoria shows industry workers are now more sedentary thanks to new technology, which is making them more unhealthy.
In previous years blue collar workers were involved in more physical labour that kept them fit.
The WorkSafe VIC study shows 32 per cent of manufacturing workers are at high risk of type two diabetes, compared to 18.3 per cent in the professional, scientific and technical services.
The figures were compiled following health checks on 40,919 voluntary manufacturing workers.
Each worker underwent tests such as cholesterol, blood pressure and lifestyle behaviours.
The results showed 6.1 per cent of manufacturing workers have a high risk of heart disease, compared to 3.1 per cent of white collar workers and 25.2 per cent smoked, compared to 13.6 per cent of professionals.
WorkHealth Ambassador Wayne Kayler-Thomson attributes the turnaround to the changing nature of the manufacturing industry where jobs are becoming more sedentary thanks to new technology.
Meanwhile, white collar workers and their employers have taken action to improve their health by adopting initiatives like healthier food choices in their cafes, encouraging workers to ride bikes to work and other health practices.
Mr Kayler-Thomson said the manufacturing industry now needed to catch up and adopt similar action.
"There are really simple, cost-effective things that employers can do straight away - such as providing facilities to enable riding to work, stretch programs at the start of every shift, or longer-term health related competitions and challenges,'' he said.