Published 17-03-2020
| Article appears in February 2020 Issue
HEADQUARTERS OPENING KEEPS VEGA AUSTRALIA IN THE SHIRE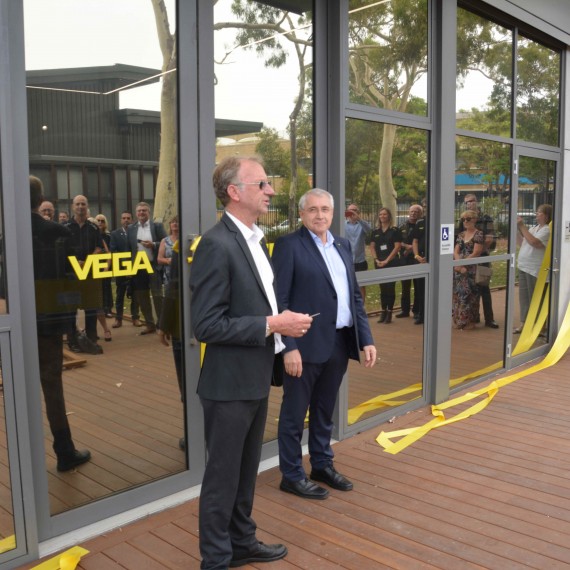 The ribbon is cut: John Leadbetter and Gunter Kech perform the formal opening
VEGA Australia has formally opened its new headquarters at Caringbah in the Sutherland Shire. The honour of cutting the ribbon fell to Gunter Kech, Managing Director from VEGA headquarters in Schiltach in Germany's Black Forest.
Speaking after the ceremony Kech said that cutting the ribbon was "an emotional thing to do" and stressed the importance of the new headquarters as being a place where "people like to work and people like to be successful – that's the basis of growth".
The location of the new headquarters in no chance event. VEGA Australia Managing Director John Leadbetter chose the site in part for its proximity to the company's previous location at Kirrawee, also in the Sutherland Shire, to minimise the disruption for the existing staff.
This was a point not lost on Cr Carmelo Pesce, Mayor of Sutherland Shire Council, who congratulated VEGA on its choice to remain in "the best part of Australia", as he put it.
For Leadbetter, the opening marked the end of a very long journey, spanning four and a half years. "But an enjoyable result in the end," he said. He went on to acknowledge the work of the whole VEGA family in bringing the project to fruition, including the support he received from Germany.
He continued: "This is the 25 year plan for us to grow. We don't know what's going to happen in the future… but now we have the means in place to cope with it."